Joseph Califano Named Physician-In-Chief, Moores Cancer Center
February 26, 2019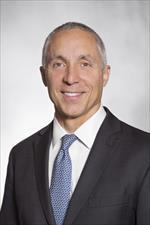 Dr. Joseph Califano III has been named Physician-In-Chief for Moores Cancer Center at UC San Diego Health. Moores Cancer Center is the only NCI-designated Comprehensive Cancer Center in San Diego.
While physician in chief, Dr. Califano will retain his roles as Professor of Surgery and Director of the Head and Neck Cancer Center, as well as maintain an active clinical practice in head and neck surgery.
The principal role of the physician in chief is to oversee clinical operations related to Moores Cancer Center and all related inpatient and outpatient oncology services at UC San Diego Health, as well as operations with affiliates and outreach clinics.
As physician in chief, Dr. Califano will be appointed to the Cancer Center Executive Committee and will work in partnership with the chief administrative officer on operational and strategic opportunities that further the mission and vision of the cancer center, including reviewing and redesigning the organizational structure for cancer center medical leadership, advising on clinical faculty recruitments and resource allocation, standardizing cancer center processes and procedures and coordinating with cancer center leaders for clinical research and education efforts.
Additionally, Dr. Califano will be responsible for service line performance, collaborating with ancillary services including radiology and pathology/laboratory, leading the oversight committee for Moores Cancer Center psychology and psychiatry services, overseeing clinical quality and patient satisfaction in conjunction with the chief medical officer, managing approvals for charity care, high cost drugs, and inpatient imaging, advancing the agenda of cancer center quality and value, and appointing a new director of quality.
As well, Dr. Califano will participate in Board of Visitors and philanthropy meetings and cancer center and health system strategic planning as well as oversee clinical space planning, including for new facilities and service offerings. He will also collaborate with chairs and division chiefs as it relates to the clinical faculty practice within the cancer center. 
Califano trained at Harvard, Johns Hopkins, and Memorial Sloan Kettering Cancer Center before joining UC San Diego in 2015.
Related News: UC San Diego Opens Cancer Clinic at Hillcrest Medical Center
Learn More About Moores Cancer Center