About Us
The surgeons in the Division of Minimally Invasive Surgery offer the most cutting-edge technology available in the realm of minimally invasive and robotic surgery while maintaining the highest quality of care. We work hard to provide the latest in endoscopic, laparoscopic, and robotic techniques in bariatric and foregut surgery. ​
Clinical Spotlight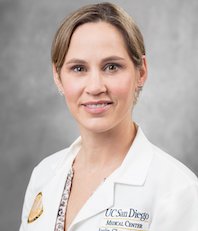 Welcome Dr. Joslin Cheverie
Joslin Cheverie, MD, is a board-certified surgeon who specializes in minimally invasive surgeries, including bariatric procedures performed on the stomach or intestines to contribute to weight loss. As an assistant professor in the Department of Surgery, Dr. Cheverie is active in educating medical students, residents and fellows. Her research interests include robot-assisted surgery and treatment of metabolic syndrome. Dr. Cheverie completed a fellowship in minimally invasive and bariatric surgery at UC San Diego and residency training in general surgery at the University of Toronto in Ontario, Canada. She earned her medical degree from Saba University School of Medicine in the Dutch Caribbean.
Recent Grants
Santiago Horgan, MD
Endoscopic Treatment for Weight Reduction in Patients with Obesity Using the TransPyloric Shuttle® System – BAROnova
A Worldwide Post-Market Surveillance Registry to Assess the Medigus Ultrasonic Surgical Endostapler (MUSE(TM)) System for the Treatment of GERD – Medigus
Garth Jacobsen, MD
The CALIBER Study: Randomized Controlled Trial of LINX versus Double-Dose Proton Pump Inhibitor Therapy for Reflux Disease – Torax Medical
A Post-Approval Study of the LINX® Reflux Management System – Torax Medical
Bryan Sandler, MD
A Prospective, Multi-Center Study of Phasix Mesh for Ventral or Incisional Hernia Repair – Davol