UC San Diego Center for the Future of Surgery: Bigger and Better Than Ever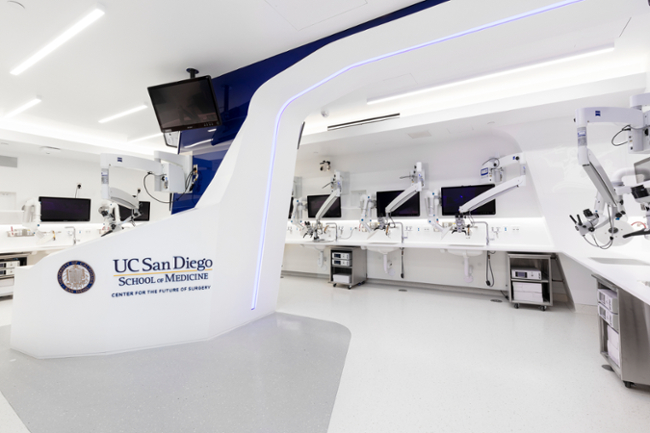 UC San Diego Center for the Future of Surgery Expands to Become Most Comprehensive Surgical Training Center in the Nation
Since its inception in 2011, the UC San Diego Center for the Future of Surgery (CFS) has been Ground Zero at UC San Diego for surgical teaching, training and innovation. More than 1,800 courses have been held at CFS, and more than 20,000 attendees have received training to improve their technical skills and build their clinical competencies -- abilities that translate directly into improved patient outcomes.
This year, CFS has gone through an incredible expansion to become what is arguably the most comprehensive surgical training location in the country. More than 2,000 square feet of new training space has been added to the 20,000 square-foot facility, including the largest microsurgery suite in the United States and the first Hybrid Operating Room designed and dedicated for teaching and training on the West Coast.
The CFS microsurgery suite is equipped with 15 stations, each featuring a wall-mounted Zeiss Pico scope as well as a Stryker display, Integra skull clamp, sink, and suction.
The Hybrid OR features a Siemens Artis Zeego system for interventional, 360-degree imaging capabilities, an integrated Trumpf operating table, Stryker integration and communications equipment, a Caresyntax intelligence platform, and a 160-inch Multitaction 4K interactive display wall.
These additions augment the 22 general surgery stations and two Intuitive da Vinci Robots already present at CFS.
"Fifty years from now, surgery will be a whole new field," says CFS Director Santiago Horan, MD. "New articulating tools, visualization and implant technologies, as well as biologics such as stem cells will come into play. The Center for the Future of Surgery is where this innovation is happening.
"We will help develop these technologies, safely test them, and most importantly, train the end-users in our sophisticated facility to enable surgeons to be more effective for patients," he continued. "In the past 10 years, we have trained more than 20,000 surgeons. This is just the beginning."
The Center for the Future of Surgery can be booked online at cfs.ucsd.edu, by emailing cfs@ucsd.edu, or by calling our front desk at 858-246-1004.