BEST - Basic Endovascular Skills for Trauma
BEST - Basic Endovascular Skills for Trauma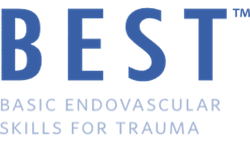 Basic Endovascular Skills for Trauma (BEST)
NEXT COURSE: JUNE 6, 2022
About the BEST Course
Participants in the Basic Endovascular Skills for Trauma (BEST) course* learn endovascular techniques such as resuscitative endovascular balloon occlusion of the aorta (REBOA) to temporize life-threatening hemorrhage. The BEST course offers hands-on training with perfused cadavers including ultrasound-guided common femoral arterial (CFA) access, percutaneous and open cannulation of the CFA, and CFA repair.
At the UC San DIego Center for Surgery, BEST is taught in a fully functional hybrid operating room which features a Siemens Artis Zeego system for interventional, 360-degree imaging capabilities, an integrated Trumpf operating table, Stryker integration and communications equipment, a Caresyntax intelligence platform, power contrast injection and a 160-inch Multitaction 4K interactive display wall.
*Please note: The BEST course and workshop do not confer credentials or proficiency to perform REBOA. Recommended full-competency training for privileges is determined by individual institutions but should include formal training through comprehensive didactic and hands-on skills sessions with high-fidelity simulators including perfused cadavers or live tissue models.
Learning Objectives
At the end of this educational activity, participants will be able to demonstrate:
Indications for REBOA
Access and closure of common femoral artery
Tools required for REBOA
Technique of REBOA


American College of Surgeons BEST website