Welcoming Our New Residents: Meet Isabella Guajardo, MD
July 30, 2019 | by Noah Lowy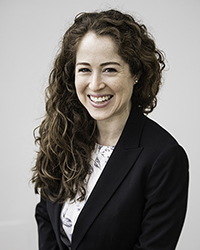 Since they matched in March, UC San Diego's newest class of surgery residents has been acclimating to the fast-paced lifestyle of residency. The new residents have made it to a crucial phase in their journey to become surgeons, and will embark upon a new stage in their careers that will require them to find their passions and be pushed to their limits.
One resident in this year's class, Isabella Guajardo, MD, took an untraditional path to residency.
Originally, from Mexicali, Baja California, Mexico, Dr. Guajardo knew that she was interested in medicine from a young age. She commuted to high school in Calexico, California, often completing her homework while waiting to cross the border. Though she had an interest in medicine, she was an avid pianist and ended up studying music theory at the University of San Diego, with a minor in architecture.
She rediscovered her passion for medicine near the end of her college career, when her father became ill and required transplant surgery. Dr. Guajardo cared for her father, driving his medical supplies from the United States back to Mexicali on weekends. Caring for her father rekindled her interest in medicine.
She began working at the Timken Museum of Art in Balboa Park while simultaneously volunteering at Healing Hearts Across Borders, a non-profit organization dedicated to providing medical care to impoverished people in Tijuana, Baja California, Mexico. "I didn't want to be cooped up in a piano practice room for hours a day," she said. "I wanted to be able to do more, to have the sense that what I'm doing is meaningful." Dr. Guajardo's volunteer work confirmed to her that she wanted to go into medicine.
Dr. Guajardo enrolled in the Post-Baccalaureate Premedical Program at Johns Hopkins University, where she finished all of her course work in just 12 months. She then went on to the prestigious Perelman School of Medicine at the University of Pennsylvania.
She discovered her passion for surgery in medical school during her rotations and by doing sub internships in various surgical specialties. "I kind of wanted not to like surgery because of how crazy the lifestyle can be." She said, "So I basically gave myself half a year of what interning may look like, and I really enjoyed it. And I thought to myself, 'Well, it is what it is; surgery for me!'"
After choosing surgery, she decided to do her residency in either California or Arizona to be closer to home. UC San Diego stood out from all of the other programs she looked at. "When I interviewed at UCSD, I felt like I really clicked with a lot of the people. When I got the chance to know the residents, I just remember thinking to myself that it would be really fun to work with them, but more than that it would be fun to go and grab a beer with them after a day of work."
Dr. Guajardo was ecstatic to match with UC San Diego. When she received her match letter, she was so excited and intended to use the letter opener given to her by the Perelman School of Medicine; however, she was so anxious to open it, she held the letter opener with her teeth while opening the letter by hand. "I started yelling, 'UCSD!' The moment where I thought I could be poised, I was just jumping up and down with a letter opener between my teeth."
Dr. Guajardo looks forward to going through residency with all of her fellow residents and getting to know them. "Something that I've been wonderfully surprised by is how great my co-interns are. It's been a lot of fun to spend time with them and I'm really looking forward to going through this whole process with them.
Dr. Guajardo has already completed one rotation and is eager to meet more faculty and staff. In addition, she is excited to discover specialty and research interests that she is passionate about. Through her residency, Dr. Guajardo hopes to become a doctor that others can look up to.
"There's a few people that I've come to really admire that I got to work with," she added. "When things get really difficult, or I have to make a difficult decision or I'm having a hard time, I ask myself, 'What would this doctor do?' because I admire them so much. My goal is to slowly, maturely transform myself into that."