U.S. Surgeon General Jerome Adams Shares Priorities of the Nation's Doctor
U.S. Surgeon General Jerome Adams Shares Priorities of the Nation's Doctor
August 28, 2019 | By Tiffany Fox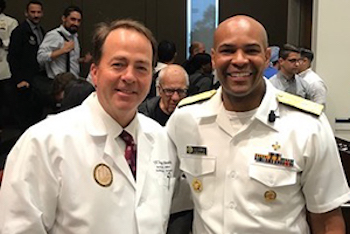 He likes to joke that he's not a surgeon, and he's certainly not a general. But Surgeon General Jerome Adams, MD, MPH, is, in fact, "the nation's doctor," and he paid a visit to several departments within the UC San Diego School of Medicine at combined Grand Rounds earlier this month to share his priorities for the country as it moves into a new era of healthcare challenges.
"Better health through better partnerships" is the motto of Vice Admiral Adams, who is an anesthesiologist by training and was unanimously confirmed as Surgeon General for the Trump administration in 2017. VADM Adams was quick to point out, however, that he's "not the Surgeon General for either Democrats or Republicans."
"I'm the Surgeon General for the United States," he told the standing-room-only audience of physicians assembled at the Altman Clinical and Translational Research Institute. Outfitted inhis uniform for the U.S. Public Health Service Commissioned Corps, VADM Adams noted that he oversees 6,500 uniformed health services — which he calls "America's Health Army" — to respond to disease outbreaks and prevent epidemics from coming to American shores.
He also said that as a father to 15-, 13- and 9-year-old children, he identifies most "not as M.D., not as M.P.H. but as D.A.D."
"We represent the first generation of parents who can't look our kids in the eye and say 'You'll live longer than I will,'" he said, adding, "I never thought in 2020 I'd be dealing with measles yet again."
And it isn't just measles that worries VADM Adams — the opioid abuse epidemic is a grave concern of his. In a powerful demonstration of his point, he asked how many of the physicians and other health care workers assembled knew how to administer CPR. Almost everyone raised their hands. He then asked how many in the audience carry in their pockets Nalaxone, which is used to treat opioid overdose. Only a few people raised their hands.
VADM Adams then warned the physicians in attendance that"it's just as likely that the person in front of you is going to have a substance use disorder — or be susceptible to one — as they are to have hypertension. I encourage you to walk the talk," he added, holding up the nasal version of Nalaxone that he carries in his pocket and demonstrating how quickly it can be administered. "We need everyone out there armed to take care of the simple cases in front of them. It's that easy to save a life."
Going a step further, VADM Adams shared the story of his brother, who is currently in prison for stealing $200 to fund the opioid addiction he developed after taking a prescription pain pill someone gave to him at a party.
"Make no mistake about it: We do have a pain epidemic in this country and it's important that we treat it," VADM Adams told the audience. "But that pill came from somewhere. Maybe it came from one of you. If the Surgeon General's brother can get addicted to opioids, anyone can. Don't cause a problem if you don't know how to fix a complication from that problem."
VADM Adams went on to suggest some ways physicians can "own the problem" and begin to tackle the opioid epidemic, beginning with requiring patients to bring to post-surgical visits prescribed opiates that they haven't used, with the explicit purpose of "preventing those meds from being misused." According to VADM Adams, 70 percent of people who have surgery do not use all the opioids prescribed to them, and 80 percent of people who try heroin began their addiction with a prescription opioid.
"In my opinion," he added, "every day should be Prescription Take-Back Day."
He also called on physicians to begin educating their patients about opioids and treatment options, and shared with the audience a digital postcard he created for that very purpose.
"The No. 1 Google search on this topic is 'What is an opioid?'" said VADM Adams. "Most people don't know that the pills you all give them are opioids. And half the country doesn't think that opioid addiction has a treatment. Many still think it's a moral failure.
"We like to overmedicalize a lot of things," he continued, noting that America prescribes 90 percent of the world's Vicodin to 5 percent of the population. "Pain management doesn't always have to be about a pill."
VADM Adams' other priorities as the nation's doctor include educating the public about the dangers of e-cigarettes, encouraging a more conservative approach to the use of medical marijuana, and making a connection in voters' minds about the link between community health and both economic prosperity and national security, noting that seven out of tenpeople ages 18-24 can't meet the health requirements to join the military.
But most of all, VADM encouraged those assembled to reach out to their communities to make a human connection.
"Voters don't vote based on health," he said, "so we've got to stop beating people over the head with the New England Journal of Medicine. The key word in public policy is 'public.' You can show them all the science you want, but people don't care what you know until they know you care."