UCSD Collaborates With Bariatric Surgical Center in Tijuana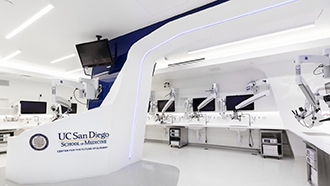 The UC San Diego Department of Surgery recently announced a new academic collaboration with a leading bariatric (weight-loss) surgery center based in Tijuana, Mexico. This partnership acknowledges the growing role that medical tourism plays in the border region and the need for enhanced educational training of practitioners in these locations.
While the benefits of bariatric surgery are well established, restrictions on financial coverage imposed by third-party payers in the United States leads many patients to seek alternatives south of the border. Given our proximity to the border, bariatric surgical specialists in our Department are often called upon to manage complications in these patients that arise as a natural consequence of surgical interventions or as a result of the variability in the quality of care received.
"We can either fight it or align to improve patient care on both sides of the border," Santiago Horgan, MD, told the San Diego Union-Tribune. In this context, Dr. Horgan – who is Chief of the UC San Diego Division of Minimally Invasive Surgery -- spearheaded a new partnership with the International Institute of Metabolic Medicine (IIMM). The IIMM is one of the premier bariatric surgery centers in Tijuana with new facilities dedicated to patient care, lifestyle modification, and the training of surgeons throughout Latin America.
The center, led by Dr. Ariel Ortiz, is fully accredited by the Joint Commission and follows the established guidelines of the American Society of Metabolic and Bariatric Surgery. "This is a first-of-its-kind partnership and shows the commitment of the UC San Diego Department of Surgery to expand internationally," added Horgan. "It is an exchange of clinical experiences that will help with the needed continuity of care of so many patients crossing the border for bariatric surgery."
This academic consulting arrangement will allow UC San Diego surgeons to share clinical expertise in minimally invasive surgical techniques and also in approaches to disseminating these techniques to practitioners throughout Latin America. The training aspects of this partnership are informed by the established experiences of the UC San Diego Center for the Future of Surgery, which is one of the premier surgical training and simulation facilities in the world.
According to Department Chair Bryan Clary, MD, "this partnership rests on a fundamental and aspirational idea that international collaborations are critical to serving the patients of our interconnected societies."