UC San Diego Surgeons Go Global Through Telemedicine
May 26, 2017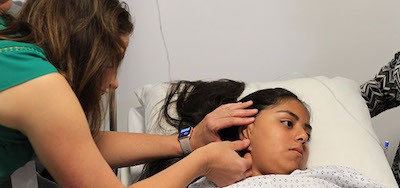 For many around the world, good health, access to care, and resources to pay for care, are far from guaranteed, especially for the poorest.
Gilbran was born with a cleft lip and palate and received multiple surgeries from visiting surgical teams to Mexico. But he never received appropriate follow-up care or multidisciplinary management—the gold standard of care for the treatment of cleft lip and palate. After several additional procedures and complications, Gilbran developed a severe facial growth deficiency, which required complex craniofacial surgery to allow him to eat and speak normally.
Dr. Amanda Gosman , Professor of Plastic Surgery at UC San Diego's Department of Surgery, and Chief of Plastic Surgery at Rady Children's Hospital, along with a team from ConnectMed International (CMI), were able to perform reconstruction of his upper and lower jaw. CMI is a non-profit organization that provides free medical care to the poor overseas and promotes multidisciplinary education through educational partnerships, and interactive telemedicine networks in low- and middle-income countries.
Telemedicine and International Health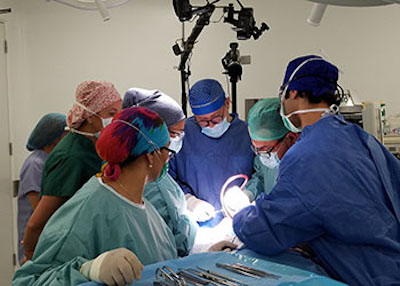 Telemedicine—the use of low-tech videoconferencing services to increase access to care for underserved patients; and to train surgeons abroad and increase medical student exposure to healthcare delivery in resource-constrained settings—is increasingly being used worldwide.
Dr. Marek Dobke , Chief of the Division of Plastic Surgery, and an expert and champion of telemedicine, has studied the approach locally and internationally since 2006. He was instrumental in setting up mobile telemedicine units for field nurses providing care not only in Wound Care Centers in rural Southern California but also visiting patients at home or in patient care facilities.
Says Dobke: "Telemedicine has established itself as a major part of digital health care delivery. The proliferation of telemedicine and tele-consultation tools creates many opportunities and allows much more effective capturing of new patients than the best website. For 'wound care' we are able to connect as far as Bakersfield; for cosmetic consultations we can go even father—even to Saudi Arabia and Russia."
Dr. Gosman, who joined UCSD in 2006, has a long-standing passion for global health and international medicine. In 1997, she took a year off in medical school and worked on a mobile surgical unit—a truck with and operating room in the back—that traveled to remote areas in the Amazon to provide surgical care.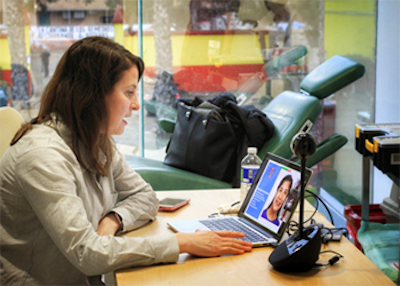 When she started at UCSD, she joined the cleft palate and craniofacial team at the Hospital Infantil in Tijuana and developed a long collaboration with their multidisciplinary team that included telemedicine for patient care and medical education.
Says Gosman: "Telemedicine has been a fantastic tool for strengthening health systems by providing access to sub-specialty care and for educational initiatives that benefit trainees, physicians and nurses on both sides of the border."
In 2008, Gosman' and colleagues conducted the first Telemedicine International Health Conference, broadcast from Tijuana. The series has continued ever since, multiple times per year, and is broadcast to academic centers worldwide.
The most recent Conference was held in May 2017 (pdf). Televised to UCSD, Stanford University, University of Massachusetts, Mbarara University of Science and Technology in Mbarara, Uganda, and multiple sites across Mexico, during the conference, Gosman and colleagues successfully performed eight surgeries on children and adults with facial deformities at the CER Clinic in Tijuana.
In addition to the international telemedicine educational broadcast, each of our surgical "jornadas' are a hands on opportunity for cross cultural learning. Residents and attendings from different countries work together and exchange knowledge and skills while providing the gold standard or surgical treatment and long term multidisciplinary management.

International Medical Volunteers: Challenges and Concerns
Many developing-world corrective surgery charities send volunteer surgeons overseas and/or fund local surgeons to correct conditions. There is a dearth of rigorous evidence on the impact of such interventions, but some studies suggest variable impacts and raise ethical concerns about volunteers' limited understanding of country context, and the short-term nature of engagement. GiveWell , an organization that evaluates the effectiveness of charities, has noted: "Many charities put some effort into training local surgeons, but from what we've seen, such effort is generally a small part of their budgets and is not accompanied by long-term follow-up on whether surgeons are correctly and consistently applying what they've learned."
"Unlike the typical mission trip model of performing surgery and leaving," says Gosman, "we are intimately involved in the long-term care of patients and able to participate in weekly clinics using telemedicine to provide multidisciplinary care in collaboration with the local providers."
Beyond Telemedicine: Department of Surgery Faculty Engaged Internationally
Dobke and Gosman are not alone in their interest in international surgical care. Dr. Stephen Bickler , Professor of Surgery and Pediatrics, is one of the foremost international experts in the field of Global Health and Surgery. He has served as a consultant for the World Health Organization on surgery in low-income countries; has published extensively on strategies for improving the surgical care in resource-constrained settings; and served at the Royal Victoria Hospital in Banjul, The Gambia (West Africa), where he studied the epidemiology of pediatric surgical diseases.
Dr. Raul Coimbra , chief of the division of Trauma, Surgical Critical Care, Burns and Acute Care Surgery, also has a long history in global health and currently serves as President of the Board of Directors for the World Coalition for Trauma Care, and is a member of the Global Alliance for the Care of the Injured within the Division of Trauma and Injury Prevention of the World Health Organization. He is also the Chairman of the Trauma Registry and Data Committee for the World Health Organization.
"As the world grows smaller and global challenges are increasingly felt locally, it is my hope that the department will continue to grow our international presence" says Dr. Bryan Clary, chair of the department of surgery. "It brings good perspective—to remember all the resources we have available to us in San Diego—and reminds us of the importance of delivering the best quality care to all, regardless of where they live.