UC San Diego Comprehensive Hernia Center
April 24, 2019
Each year, more than five million Americans suffer from hernias, and only a fraction are repaired in a timely fashion. The chief aim of the UC San Diego Comprehensive Hernia Center – which is based in the Division of Minimally Invasive Surgery – is to provide access to a full spectrum of care for both simple and complex hernias, from the most routine to the most complex recurrent hernia in the face of fistulas and infected mesh.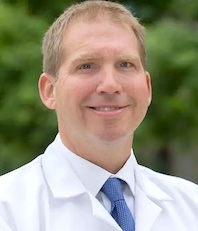 Under the direction of Garth R. Jacobsen, MD, the Comprehensive Hernia Center takes a data-driven, team-based approach to algorithmic care, combining the expertise of the Divisions of Colorectal Surgery, Plastic Surgery and Interventional Radiology, as well as an internal medicine physician to help in pre-habilitation of this complex patient population.
While no surgeon is discouraged from thinking outside the box to provide the best care for our patients, our primary approach is to replicate effective techniques and, when needed, modify standardized pathways.
There are two current endeavors that highlight this process. Over the last two years there has been a strong trend in the United States toward the adoption of surgical robotics in hernia repair. We have been actively involved in the assessment of this technology in a responsible way. We now have care pathways leading from inguinal hernia to complex robotic abdominal wall reconstruction. Over the last two decades the rate of laparoscopic inguinal hernia repair has remained static at around 20% of all inguinal hernias, largely due to the technical complexity of a well-done repair.
We believe the utilization of surgical robotics will lead to increased access of minimally invasive techniques for groin hernia repair. This will allow for decreased post-operative pain and less chance of chronic pain. In addition we have cut the length of stay in half for more complex reconstructive cases utilizing robotic techniques. These repairs allow for the performance of component separation techniques like the transversus abdominus release in robotic fashion, rather than a more invasive open approach.
The comprehensive nature of the center is also highlighted in several other endeavors. Not infrequently we are referred patients with complex abdominal wall fistulas. We often employ a team of colorectal, plastic and general surgeons to obtain results that would be difficult to achieve without tapping into the collective expertise of these groups. In addition, we are working with our interventional radiologists to perform chemical components separation prior to operative intervention, with the goal of providing less invasive repairs.
Our teamwork and expertise have lead UC San Diego to be the "go to" regional referral center for complex abdominal wall problems, and we enjoy being the referral center for other surgeons in the region. We look forward to a productive year.