Tenth Annual Department of Surgery Research Symposium: Truth, Justice, and the JEDI Way
Tenth Annual Department of Surgery Research Symposium: Truth, Justice, and the JEDI Way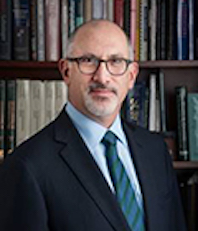 After three hours of robust and innovative research talks presented as part of the 10th annual Department of Surgery Research Symposium earlier this month, even the event's keynote speaker – Jeffrey B. Matthews, Surgeon-in-Chief of the University of Chicago – was left starry-eyed. 
"If anyone doesn't believe that academic surgery is alive and well," Dr. Matthews opined, "all they have to do is come to UCSD and see it in action."
Medical students, residents, fellows and faculty submitted a total of 91 abstracts representing each of the 13 divisions in the Department and showcasing the breadth of the research being conducted department-wide in basic and translational science, clinical research, robotics, health services, education and global health. 
Among the abstracts submitted, 32 were chosen to be showcased at the Symposium, with three resident/post-docs and three medical students taking away prizes for best presentation in one of three categories (see below). This year saw a marked increase in abstract submissions for basic and translational science, increasing from 17 abstracts in 2021 to 32 abstracts in 2022.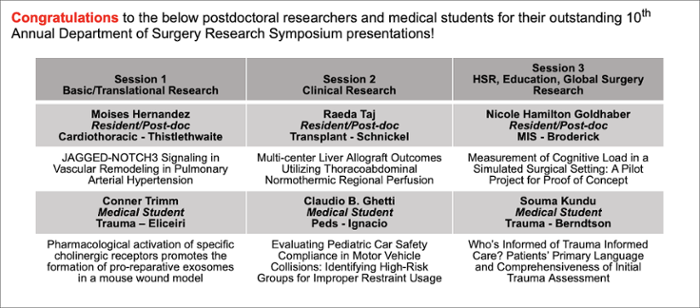 "Research and education are the lifeblood of our academic surgery departments," said Department Chair, Bryan M. Clary, M.D., FACS. "They are what differentiate us. They are a pathway for better outcomes for the future, but also the present. 
"First and foremost, this Symposium is a celebration of the incredible work that our research teams have been accomplishing throughout the entire year," Dr. Clary continued. "But beyond being informative, it's also my hope that the event will stimulate further collaborations and lead to even more exciting and successful research."
"The abstracts represented a very wide range of surgical science," added Executive Vice Chair for Research Jason Sicklick, M.D., FACS. "Many were particularly innovative and thought-provoking, and everyone should be congratulated." 
Due to the ongoing COVID pandemic, this year's Symposium took a hybrid approach, with Dr. Matthews' Symposium keynote and research abstract presentations held remotely, followed by an in-person talk by Dr. Matthews at Grand Rounds the following morning. 
Dr. Matthews – a hepatopancreatobiliary surgeon as well as a gastrointestinal surgeon – graduated from Harvard University and Harvard Medical School and completed his residency at Beth Israel Hospital in Boston. In 2006, Dr. Matthews was recruited to the University of Chicago as Chair of the Department of Surgery and Surgeon in Chief of the Pritzker School of Medicine. 
Dr. Sicklick introduced Dr. Matthews as "the true epitome of the surgeon-scientist and a renaissance man of surgery who does it all and does it all well." Dr. Sicklick noted that Dr. Matthews led a research laboratory funded by the National Institutes for Health for more than 20 years, and has published hundreds of papers, while also serving as editor in chief emeritus of the Journal of GI Surgery as well as on the editorial board of 11 journals. 
Presenting on the eve of May 4 – or what has become, in popular culture, "Star Wars Day" ("May the fourth be with you") – Dr. Matthews titled his keynote speech "Academic Surgery Wars: The Last Jedi" and drew parallels between the world of academic surgery and the film series' themes of good vs. evil, self-actualization, training, mentorship and relying on a network of friends and allies.
Dr. Matthews compared surgeon-scientists to the "Last Jedi," noting that the struggle to become a "triple threat" surgeon (a physician, scientist and educator) has been ongoing for more than 60 years. As a point of proof, Dr. Matthews quoted Dr. Frances D. Moore, past president of the Society for University Surgeons, who in 1958 said "A surgical investigator is a bridge tender, channeling knowledge from biological science to the patient's bed and back again … Those at one end of the bridge say (s/he) is not a very good scientist, and those at the other say (s/he) does not spend enough time in the operating room. If only (s/he) is willing to deal with this abuse, (s/he) can continue to do her job effectively." 
Alluding to his own "jedi training" as a surgeon-scientist and his early years running a very successful lab studying GI diseases, Dr. Matthews noted that he and his colleagues built a strong network of "rebel resistance" collaborators and colleagues who were committed to – and ultimately successful at – becoming surgeon-scientists. 
So where do things stand now, as the next generation of surgeon-scientists become prominent in the field?
"Thirty years later, the academic surgeon is still struggling for legitimacy," admitted Dr. Matthews. "There may be greater internal and external threats to the research mission in departments of surgery than before. 
"It's true that academic medical centers tend to de-emphasize scholarship in very competitive markets," he continued. "Compensation plans generally favor clinical over scientific success, and those that do incentivize scholarship tend to do so at a much reduced rate, so it tends to skew faculty efforts towards clinical productivity that generates the margins needed to underwrite bonuses. There are, in many institutions, fewer and fewer good surgeon-scientist mentors, and departments of surgery may have fewer resources to spread around. It's a tricky time."
Still, Dr. Matthews argues, the days of the triple-threat "Jedi surgeon" are not over.
"We are living in this imposter era, where we tell ourselves that the days of the giants are gone," he added. "I would argue, if you look around the Department of Surgery at UCSD, you've got a lot of giants in this department."
"We've got to recruit and grow creative, energetic doers of the current generation, and nurture and sustain diverse investigators, while being open non-traditional ideas," he continued.  "You don't have to be in a wet lab – you can do high-impact work in many different ways."
In his presentation at Grand Rounds the following morning, Dr. Matthew discussed "Truth and Truthiness: Evidence, Experience and Clinical Judgment in Surgery." In this lecture, Dr. Matthews compared clinical examples of "the truth" with "truthiness" – the comedian Stephen Colbert's term for "a seemingly truthful quality that is claimed for something not because of supporting facts, but because of a feeling that it is true or a desire for it to be true."
Dr. Matthews' talk focused on medical evidence and what surgeons do with it, cognitive biases and how they might be compensated for, tacit knowledge vs. clinical judgment and the implications of these topics for surgical training. 
Noting that "the practice of surgery reflects an accumulated wisdom that mixes fact, opinion and magical thinking in unknown proportions," Dr. Matthews noted historical examples of "truth by consensus" in surgery, as well as the many ways the scientific method can be problematic. Although physicians are, for example, trained to use the best available scientific evidence to make decisions – and conversely, to avoid opinion, anecdote, or unsystematic observations – Dr. Matthews argued that "it's very hard to find data that the concepts and tenets of evidence-based medicine lead to better care."
Dr. Matthews asked the audience to imagine, for instance, clinical scenarios where there is little to no data, or scenarios where a patient doesn't "fit the average," or scenarios where the concept of clinical judgment might trump the evidence that is available. 
"We love the idea of evidence-based medicine because it seems like it should be true," he added. "It's very conceptually attractive. But in daily practice, it often falls short. It doesn't always work as advertised."
Even when the evidence is clear, Dr. Matthews stated, surgeons don't always make decisions based on it, for myriad reasons: They can't keep current on evidence or don't believe it's true, they're poised to reject evidence they don't like, they're slow to reject time-honored practices and they're quick to adopt "what's shiny and new." Furthermore, much evidence in the world of surgery is low-quality data, since surgical trials are not often randomized controlled trials. This also weakens systematic reviews and meta-analyses.
"We as surgeons are particularly susceptible to problems of cognitive bias," he added. "It's the nature of who we are and what we do. We are highly influenced by dogma. We believe what our chiefs tell us. We tend to respect hierarchies. We have a prediction for linear causality, rather than thinking of the complexity of the situation. And we believe in surgery. We have a vested interest in it." 
To "repair" cognitive biases, Dr. Matthews recommended multidisciplinary teams, risk calculators and other decision-support tools, as well as rules of thumb (such as checklists) and other heuristics that reduce variation and subjectivity. 
"Evidence-based medicine, at least in its current form, is insufficient to encompass all the types of knowledge we need to make decisions for our patients," Dr. Matthews concluded. "Clinical  judgment blends explicit knowledge with tacit knowledge – an informed intuition. Daily clinical practice involves hundreds of decisions that require varying proportions of explicit and tacit knowledge. This is where evidence-based medicine bumps up against experience-based medicine.