Smoothing the Transition From Medical School to Residency
May 7, 2018 | Lindsay Morgan
The 4 th year of medical school is a year unlike any other—with a flexible structure that allows students to explore areas of interest, do valuable away rotations, and interview for residency.
But for its strengths, the final year of med school has been criticized for not adequately preparing students for the demands of clinical work, resulting in stress and burnout, 1 mental health problems, 2 and poor patient care in the initial year of residency. 3
To fill that gap, many medical schools offer specialty-specific "boot camps," which provide time-limited high-intensity preparation in the basics needed for intern year. UC San Diego, for example, has offered a boot camp in surgery since 2016, which includes didactic sessions, mock paging, simulated skills labs, and operative anatomy sessions to prepare students to become surgical interns. Certain medical schools, such as UC San Francisco and Northwestern, have developed successful boot camps for entire graduating classes.
Evidence on the benefits of boot camps for improving clinical skills, knowledge, and confidence, is promising, and is driving a trend towards requiring all medical students to take residency transition courses. 4 , 5
As part of that movement, this year, UC San Diego's School of Medicine piloted a new Residency Transition Course for 4th year medical students, designed to prepare them for residency through simulated sessions, seminars, and hands-on skill sessions.
"The impetus behind the course is to enable and prepare new physicians, so that they can better meet the many professional expectations of them starting on day one of their residency," says Mark Whitehead, Associate Dean of Undergraduate Medical Education.
Although the medical school curriculum has included a Principles to Practice rotation for years, which was meant to address some of the same gaps, the new course goes much further.
Objectives of the course include procedural competency—how to properly place central lines, LP (lumbar puncture—i.e., a spinal tap), arterial lines, etc.—management of common clinical scenarios, and development of the professional skills required to succeed as an intern. The course included a mini boot camp preparing students for ICU and cardiology rotations, and included:
EKG and telemetry review
Hands-on ventilator management skills
Development of confidence in CODE BLUE situations
Students also reviewed radiology and hands-on ultrasound skills to re-fresh and expand their knowledge in these areas.
The course was developed and taught by Gabriel Wardi, MD, MPH, an Assistant Clinical Professor in the
Department of Emergency Medicine.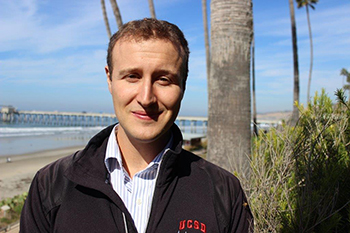 Says Wardi: "People are recognizing more and more that, although you learn a ton of great stuff in medical school, the transition to residency is rarely smooth. The first month is rocky. You're learning a new computer system, living in a new city, second guessing yourself with everything. It's a huge amount of pressure. We wanted to address this head on and help smooth the transition."
Wardi developed the course curriculum based on an extensive review of the literature, and dozens of interviews—with graduating students, interns, deans, and chairs, among others.
He also drew on lessons from his own experience—during his last year of medical school at Emory University in 2011, he was part of an inaugural capstone course for residency transition.
The course, which was held in the Center for the Future of Surgery, a premier training and simulation center for practicing and future clinicians, was distinctly practical. It included patient simulation, and a focus on the nuts and bolts of being a doctor—ordering labs,  mock pages, and inviting nurses for a seminar entitled "What Nurses Wish Interns Knew."
"The idea was to employ mixed modalities to create a diverse experience for the students," says Wardi. "It's been a lot of fun."
Joanne Malinak, who will begin a residency in internal medicine at Scripps Green in San Diego in June, says "This is one of the few courses where my expectations were blown away. Dr. Wardi was a phenomenal course director—energetic, enthusiastic, considerate of our time."
Malinak says she especially enjoyed being paired with a registered nurse, to observe their work day: "These are people I've worked with for four years, but never really knew what they did, which obviously doesn't bode well for communication. But they are so busy, they know so much. I came away with a lot more respect for them, and a lot of insight."
Angharad Ames was the only Psychiatry-bound medical student in the class of seven. She was already looking for ways to prepare for first-year residency, which include rotations in internal medicine and emergency medicine, before she learned about the course. "I took almost all psychiatry courses in my last year, which has a lot less medicine-ward instruction. When I start my residency, I'm going to need to be able to do that, so I wanted something to help me prepare. In almost every single session, I learned something new or something was reinforced."
Ames says that the simulation labs were especially helpful: "Even though it's not the real world, it's much more real than reading a prompt from a piece of paper. Working in those sessions made me nervous but it was good to know I was in a safe environment. It helped to think through scenarios and go through the motions."
The challenge ahead for Wardi will be to scale up the course, from an elective with 7 students, to a required course for 130 in the spring of 2019.
"The goal," says Wardi, "is to develop tracts for people going into different specialties—so people going into pediatrics will have a tract designed for them, people headed to surgery will have something designed for them."
Wardi is already working with the Department of Surgery's Dr. Joel Baumgartner, Assistant Professor of Surgery in the Division of Surgical Oncology, who runs the surgery boot camp, to incorporate it into the next iteration of the course.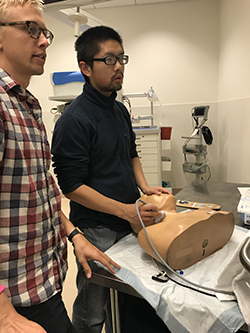 The surgery boot camp dives deeper than the general course into technical surgical skills training using simulation, cadavers, and a pig lab, in addition to didactic sessions focused on surgical patients (i.e., common postoperative complications, surgical radiology, etc.).
Says Baumgartner: "The surgery boot camp has been a great addition to pre-residency training at UC San Diego. Students routinely tell me how valuable the course is in helping them feel prepared for surgical residency—and the word has gotten out. The course has filled to capacity the past two years. Surgical faculty also really enjoy teaching the course. Some have told me that it's been the most rewarding educational experience of their career.
Merging the surgery boot camp with the Residency Transition Course will allow students heading into surgical careers to continue to benefit from the hands-on aspects of the boot camp and from the resources of the School of Medicine for the other aspects of the course. I'm excited to be working with Dr. Wardi to make this happen."