Researchers Design a Rapid, at-Home COVID-19 Saliva Test
Since the first reports of a deadly respiratory illness in the winter of 2019, severe acute respiratory syndrome coronavirus 2 (SARS-CoV-2), the cause of COVID-19, has spread globally and resulted in the most impactful pandemic in more than a century. Diagnostic testing for the virus has played a central role during this pandemic and has significantly evolved since COVID-19 was first detected.
There are currently three accepted methods for diagnosing of SARS-CoV-2 infection:
Viral RNA detection via nasal swab
Viral protein detection via nasal swab
Measurement of specific antibodies via blood test
Researchers at University of California San Diego School of Medicine published a study in Biosensors and Bioelectronics that examined another COVID-19 testing option — a saliva test that could be done at home.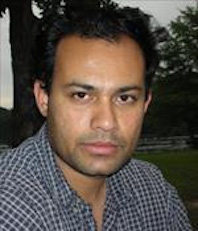 Partha Ray, PhD, assistant adjunct professor in the Department of Surgery at UC San Diego, was part of the research team that designed a diagnostic system that showed to be an inexpensive, rapid and accurate testing tool for COVID-19.
Q: What was the goal of this study?
A: We wanted to design an inexpensive COVID-19 diagnostic system that could be used at scale for repeated population screening. For this, we used an Aptamer-based method for detecting SARS-CoV-2 (a type of spike or nucleocapsid protein) from COVID-19 patients' saliva samples.
The test is read out by using off-the-shelf glucometers. The test was engineered around a glucometer because it is the most prevalent piece of diagnostic equipment globally. This makes the test highly scalable with an infrastructure that is already in place.
Many glucometers also connect to smartphones, providing an opportunity to integrate with contract tracing apps, medical providers and electronic medical records.
Q: How can these findings improve the testing process during the pandemic?
A: The test can be performed within one hour at home or health care centers without the requirements of expensive instruments or operational training.
Since our test is using readily available, inexpensive reagents and low-cost glucose test strips, each test has a modest $3.20 production cost with the current low volume production. However, with few modifications in the system and large-scale production of the test, we anticipate the cost can be further reduced below $1.
Thus, our approach could provide a price point needed for rapid population screening and repeated testing in both well-and under-resourced settings to monitor the disease.
Q: How does this test work?
A: Saliva samples are first collected in a tube and mixed with a pre-formed complex that is assembled on magnetic beads. In the presence of the virus or viral protein in the saliva of the infected individual, an enzyme is released in the solution.
The solution is then separated from the magnetic beads with the help of a magnet. The collected solution is then mixed in a separate tube, with a sucrose (sugar) solution, which is converted to glucose by the enzyme.
The glucose formed, which is proportional to the viral load, is then read out by using a common glucometer. Tubes containing the reagents and magnet will be provided in a kit that can be used for the test.
Our study found the test had a 100 percent sensitivity, meaning it was able to detect all patients who were positive for COVID-19.
Q: What are the benefits of this type of testing versus the swab testing?
A: Our COVID-19 test can be performed at home by individuals with little or no training. On the other hand, the specimen collected through nasal swabs are tested by trained laboratory technicians using nucleic acid amplification (RT-PCR) tests that require sophisticated instruments. Thus, they cannot be performed at home for self-monitoring and is expensive for repeated population-based screening.
Q: What are next steps?
A: Our next step is to automate the detection method by performing the test in a syringe or multi-compartment tube.
Additionally, with minor workflow improvements, we can integrate the glucometer-based test readout with Bluetooth wireless-enabled software technology that will provide an opportunity for digital reporting and COVID-19 tracking.