Q & A: Winta Mehtsun, MD, MPH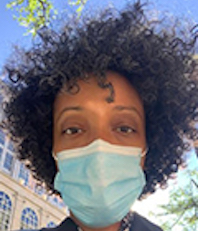 The Division of Surgical Oncology is delighted to welcome Dr. Winta Mehtsun to the faculty. Dr. Mehstun is originally from Eritrea but grew up across several countries in Africa and South East Asian before emigrating to the U.S. Dr. Mehtsun joins us after completing medical school at the University of Virginia and a Master's Degree from The Johns Hopkins- Bloomberg School of Public Health. She completed residency training at Massachusetts General Hospital and completed her fellowship training in surgical oncology at the Mass General Brigham/Dana-Farber Complex General Surgical Oncology Fellowship at Harvard Medical School. Dr. Mehtsun will practice both in La Jolla and Hillcrest, focusing on sarcoma and endocrine surgery. Her research focuses on the intersection of health policy, financial incentives, and regulation, and their impact on surgical utilization, cost, and outcomes. We are proud that Dr. Mehstun will be the first Department member to hold a dual appointment in the Departments of Surgery and the Wertheim School of Public Health and look forward to welcoming her here in the fall.
Q: What would you say is one key personal quality that led you to a career in surgery?
A: I like to problem-solve and work in environments that require evolution, which is what drew me to surgery. Surgery requires you to think on your feet and develop solutions in real time, and you never stop learning. As a medical student, watching surgeons deal with unforeseen obstacles in the operating room really inspired me. I appreciate that as a surgeon you are constantly adapting your approach and the growth and learning never stop.
Q: What drew you to policy-related research?
A: I think the ability to work on bigger health system questions, and impact patient care beyond the operating room really drove me to pursue policy related research. My upbringing across several different countries where infrastructure and resources to deliver healthcare varied also inspired my policy interests. At the end of the day I think access to quality healthcare is important, and we need create avenues where providers are empowered to deliver great care and advocate for patients.
Q: What, in your view, are the three greatest challenges with regard to financial incentives and regulation?
A: The U.S. healthcare system is at an important crossroads; the COVID pandemic has highlighted both our short-comings and strengths as a healthcare system. I think the current fee-for-service system has to be revamped, and payment models must move away from volume based incentives. Second, the pandemic has unveiled the clear inequities that exist in our health system. Concerted efforts must be made to understand and eliminate drivers of health disparities in a much more substantial way than we have done in the past. Third, our approach to improving the delivery of care must not be executed in a vacuum. I think we need to invest more in interdisciplinary collaboration that involve stakeholders outside of traditional medicine. The health of a population is a function of much more than access to quality care, it is also a function of healthy food options, clean air and water, housing, and security. Increased public-private partnerships drawing from a wide spectrum of expertise will be necessary to fundamentally change the way we deliver care.
Q: How does your cosmopolitan background influence the way you practice medicine?
A: Growing up across several countries in Africa and Southeast Asia has exposed me to different communities and geopolitical infrastructures, which has been fundamental in motivating my decision to pursue a career in medicine and health policy. Also at the most basic level, being a stranger in a new country teaches you how to relate to people who are different from you, which is a key aspect of interacting with patients. Moving often taught me how to adapt and thrive in new environments, which also translates well into adapting to shifting demands as you build a practice.
Q: What will your work for the School of Public Health focus on?
A: I hope to continue my work on understanding how to improve the delivery of healthcare in the U.S. and expand on comparative health system research, which will draw on understandings of improving health delivery globally.
Q: What was it that sold you on UC San Diego?
A: The culture of innovation and collaboration. I was really drawn to the people I met in my interviews, they all seemed passionate about the work they do and eager to work together to make a difference.