Q & A: Ronda Henry-Tillman, MD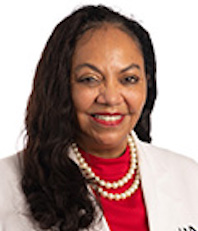 The UC San Diego Department of Surgery was delighted this summer to host Ronda Henry-Tillman, MD, a recipient of the 2021 American Surgical Association/Society of Black Academic Surgeons Surgical Leader Fellowship Award. This Fellowship grant is a mechanism to support external leadership shadowing experiences for mid-level or senior academic SBAS surgeons who desire future leadership roles.
Dr. Henry-Tillman is an accomplished academic breast surgical oncologist at the University of Arkansas. She is an alumnus of UCSD School of Medicine and has San Diego roots, graduating with her undergraduate degree at San Diego State University. Her research interests are largely focused on disparities in care and clinical breast oncology and surgery topics. Over the course of her one-week visit, she met with faculty in the Department as well as Institutional leaders to get a feel for how UC San Diego Health accomplishes its mission. In addition, she observed in our clinics and operating rooms.
For our monthly newsletter Q&A, we asked Dr. Henry-Tillman about her background, her approach to leadership and how her perspective on healthcare has evolved since she first roamed the halls of UC San Diego as a medical student.
Q: How was your experience growing up, and what led you to pursue medicine?
A: I was born and raised in Blytheville, Ark. At 16, I decided to find something different in life. I left Arkansas in high school and came to California, where I had an aunt and uncle in San Diego. My aunt's son had attended SDSU at the time, and she told me to finish high school at Morse. I graduated and then went on to register and attend SDSU. Afterwards, I got into a pre-med program at UC San Diego, with Dr. Percy Russell, a leader in working with students from diverse communities. At first, I was really drawn to computer science and technology but at SDSU, I didn't have a lot of options with my interests since SDSU was more of a business school. After talking with some pre-med students, I decided that maybe I should look into being a doctor, but others told me that you needed to have people in your family who are doctors, or have a background in science. I had none of these things. I then talked to Dr. Russell and we worked out a plan, and I ultimately got accepted to UCSD. God's grace is amazing because the struggles were real.It wasn't an easy route for me here at UCSD, but I was able to graduate. Dr. Maria Savoia was my medical advisor and support system here.
Q: Why did you decide to specialize in breast surgery?
A: One of my mentors said I should look into being a cancer doctor and work with women with breast cancer. The route to surgery was first General Surgery, and so I put it on my rank lists and matched with University of Arkansas. My mom, dad, and siblings were still in Blytheville at the time, so I really ended up going back to where I came from.
I matched in general surgery at Little Rock and then did my residency there. I also did a fellowship there as well in diseases of the breast, which was called the Virginia Clinton Kelley Breast Fellowship at the time, named for President Bill Clinton's mother and later becoming the Society of Surgical Oncology Breast Fellowship programs. At the University of Arkansas for Medical Sciences, Winthrop P. Rockefeller Cancer Institute we have a long history of training specialists in Disease of the Breast. I completed the fellowship and was recruited to stay on as faculty in general surgical cancer.
I worked there as junior faculty and I am now executive vice chair and division chair of breast surgery and oncology. I also trained people in Africa to care for women with breast cancer and trained individual people on how to do early detection. Besides that, I led campaigns across the state of Arkansas for access to care.
Q: What led you to pursue a leadership fellowship with the Society of Black Academic Surgeons?
A: I'm a leader, and I know that in academics it's very rare across the U.S. to have leadership from the black community. This past year, we saw the first African-American female be named as Chair of a Department of Surgery. It's taken a long time; people are different, and as much as we want to see everything the same, it's not going to be that way. When you get the opportunity to lead and make a difference, you should take every opportunity that you have because I can make a difference for that next person. Not only that, diversity matters when it comes to changing what is going on in healthcare. We know so much about disease behavior now, like specific hypertension and diabetes, and outcomes differ based on who you are.
As I've moved into leadership, becoming executive vice chair has given me opportunities to support faculty and our department in growth. In 2020, I applied to the American Surgical Association for membership, and I am now also a member of the Society of Black Academic Surgeons. I had opportunities to identify people within the American Surgical Association who were willing to support a fellow. I then chose UCSD and University of Texas, Medical Branch under Dr. Douglas S. Tyler and Dr. V. Suzanne Klimberg. I am also working with UC San Diego breast surgeon Dr. Sarah Blair alongside Dr. Clary, who was just so open and easy to work with.
I ultimately chose UCSD for the fellowship because I had gone to school here and I wanted to see the growth, leadership, and change that has happened since then. It has been 30 years since I moved on, and it has just been amazing to see the changes. We didn't even have a medical campus in La Jolla at the time I was last at UCSD; to see this and to see what Dr. Clary has brought to the department is so important. In 2019, I received the UCSD alumni award, so I came back by invitation then as well. It was truly an honor.
Q: What has changed from when you were last at UC San Diego?
A: The growth is beautiful. When I came back in 2019, I was like, "Wow, the hospital is on campus; what does that mean for those who are in Hillcrest?" That's where we rotated. Diversity is still a challenge for all places and all platforms, especially in leadership.
Having the opportunity to be in a fellowship that allows you to see up front the faculty and how the institution works alongside the departments and the hospital system… Everything has to be aligned for it to work well, and Dr. Clary has really done that.
Q: How has your perspective on healthcare evolved over the years?
A: People don't want to be unhealthy, and people don't want to be poor. It's just where you come from that does dictate where you go. Every once in a while, people do move outside where they came from. That happened for me, and now I try to impact people not only in the medical field but in my community and access the world-- to lead in a positive way that won't just impact medical care but the whole world. Look at the COVID vaccine: for two years, we were in a state of "What are we doing?" Thank God for science, thank God for us to have the fortitude and ability to push for better care, better technology, and better resources. It's so important, outside and in this medical realm. It's bigger than just medicine.
As a leader, even without my MBA, I studied business and healthcare leadership and health administration. To lead a division, I have to study people, and we are all different. We all work in a different way, and that's why it's important to understand diversity, inclusion, and equity. You always have an opportunity to demonstrate inclusion, and we can still work together despite the differences we bring to the table. It takes a team, and it's really the leader driving that time that makes things happen. You have to talk to your people and your team to make sure they're OK and to make sure the institution is aligned. You've got a school and a healthcare system and department leaders; you think, where do I fall within this institutional world, and how do I make it better? The endpoints are still the endpoints: patient care and education and to grow individuals to make a difference.