Q & A: Quyen Nguyen, MD, PhD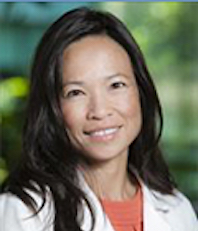 The U.S. Food and Drug Administration (FDA) has granted Fast Track designation for ALM-488, an investigational fluorescently labelled nerve targeting pharmaceutical being developed as an adjunct for the visualization of nerves at risk for injury during head and neck surgery. The compound was developed by Alume Biosciences, Inc., a clinical stage biotechnology company led by CEO Quyen Nguyen, MD/PhD, Professor of Surgery at UC San Diego. Here we speak with Dr. Nguyen about this exciting breakthrough and the process of getting the compound fast-tracked.
Q: What is exciting about ALM-488?
A: ALM-488 is a proprietary fluorescent peptide-dye conjugate in the visible spectrum. ALM-488 binds to the extracellular matrix of nerves, allowing real time nerve illumination during surgery. ALM-488 is expected to have broad surgical application due to unique characteristics of binding that are independent of myelin. This allows ALM-488 to highlight multiple types of nerves including motor, sensory, autonomic and degenerated nerves important during reconstructive procedures. Surgeries where nerves are potentially at risk include procedures in the skull base, head and neck, spine, and nerve sparing prostatectomy. 
Q: Why is it receiving fast-track designation?
A: Fast Track designation is intended to facilitate the development and review of drugs used to treat serious conditions and to fill an unmet medical need. The FDA granted ALM-488 FTD because it recognizes that the ability to highlight nerves intraoperatively an unmet need and that there are currently no FDA approved agents for this indication.
Fast Track designation enables Alume to have more frequent interactions with the FDA throughout its drug development process, so that an approved product can reach the market expeditiously.
Q: What is the process like for receiving this designation, and what advice can you give your peers who might one day be involved with such a designation? 
A: We applied for FTD with the FDA using data from our recently completed clinical trial of ALM-488 in patients undergoing head and neck surgery. 
Q: How will ALM-488 change surgeries going forward? 
A: ALM-488 fits well with the current surgical workflow.  It is administered to patients during pre-op holding.  Surgeries can begin anytime between 1-5 hours after the administration of the compound.  Nerve fluorescence can be viewed using a variety of instrumentation including filter-modified surgical loupes, fluorescence-enabled microscopes, laparoscopes, endoscopes etc.  We plan to begin Phase 3 clinical trial for ALM-488 in Q1, 2022. 
Q: What first whetted your interest in pursuing fluorescent-guided surgery?
A: I first realized the unmet need to develop fluorescent compounds to improve surgical visualization of disease states and critical structures during my residency in Otolaryngology-Head and Neck Surgery at UCSD.  My PhD from Washington University, St. Louis was to develop fluorescent animal models to study  nerve regeneration   .  From this experience, I realized that there is an opportunity to use fluorescence during surgery for patients to highlight critical structures and disease states.  Together with the late  Roger Tsien    (Nobel Laureate, Chemistry 2008), we developed an intraoperative fluorescent tumor marker (pegloprastice, Avelas Biosciences) which decreased the incidence of positive tumor margins in patients with breast cancer by 75% and received  Break Through Designation from the FDA    December 2020. ALM-488 is the intraoperative fluorescent marker that we developed to highlight critical nerves that may be at risk during surgery.