Q&A with Mahmoud Malas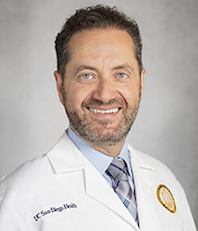 Dr. Mahmoud Malas will begin as Chief of the Division of Vascular and Endovascular Surgery in September 2018. One of the most active clinical trialists in the country in the field of vascular surgery—a field where the development and implementation of new technology is rapidly occurring—Dr. Malas will bring to UC San Diego 13 years of experience from the Johns Hopkins Medical School, where he directs the Center for Research Excellence and Surgical Trials. In this Q&A, Dr. Malas shares his hopes for the Division, as well as his thoughts on destiny and the path that led him to a career in vascular surgery.
---
July 23, 2018 | Interview by Lindsay Morgan
How did you get interested in medicine?
I knew growing up that I wanted to be a doctor and specifically a surgeon to take care of the sickest patients. I don't know why. Nobody in my family was in medicine. I love reading and certainly that could have influenced my decision, as I read a lot about medicine and surgery.
Where did you grow up?
We are originally from the Middle East. My mom and dad are from Syria and I grew up there. I moved to the United States in 1992, because I knew from the beginning that this is the best place to be trained in surgery. All the legends that I read about in surgery were in the US. One great example is Michael DeBakey, a legend in cardiovascular surgery and—most people don't know this—but he's originally Lebanese, from a town less than an hour from where I grew up. He was my role model.
You did your general surgery residency at the University of Southern California.
USC is one of the busiest programs in the country, especially on the west coast, and especially as a trauma center. It was an amazing opportunity—to learn general surgery in that program. They gave residents a lot of independence and autonomy from early on, which doesn't exist anymore. By the time you were in your 3rd year, you were doing cases on your own with minimal supervision. By the time you were in your 4th and 5th year, you ran the entire county hospital. I finished my training with over 1,500 cases. I was exposed to and loved every area in surgery—cardiac, hepatobiliary, transplant and trauma. I couldn't make up my mind what I wanted to specialize in.
So how did you decide on vascular surgery?
The irony is that, when I initially rotated through vascular, I really was not interested in it. It was the beginning of the endovascular era, and I loved open surgery. However, when I saw the impact that endovascular procedures had on my patients, the difference was unmistakable—people were healing much faster, leaving the hospital early, there were less complications.
It was clear to me that endovascular was going to be the future and since it was a new field at that time, I knew that a lot of outcomes research and clinical trials would be needed to test all these new technologies, something I am very passionate about.
So eventually I applied and interviewed for a vascular surgery fellowship. One of the most competitive places at that time was in New York—Montefiore Medical Center, the University Hospital for Albert Einstein College of Medicine. Frank Veith, one of the legends of vascular surgery, was there, as well as Takao Ohki, who is one of the pioneers in the endovascular field. They did the first endovascular repair of abdominal aortic aneurysm in the United States.
I was told that there was no way I was going to get into that fellowship. They didn't think I could compete with candidates from Harvard and Yale and advised me to interview in Tennessee instead—a strong program that offered me an interview on the same date as Montefiore.
I canceled Tennessee and went to New York because I don't take "no" or "you can't" for an answer. In New York, Dr. Veith told me: "we have about 400 applications for one spot. And I'm only interviewing 10 candidates. Congratulations on being one of them. You have today to prove to me that you're the top candidate out of those ten."  I thought, oh I wish I went to Tennessee. I figured there was no way he was going to hire me, so I might as well just fight back.  I said, "Dr. Veith, with all due respect, I have interviewed in the top ten programs in the country, and you have today to prove to me that your program is the best program." And I think that's what got me the job.
After fellowship, you spent 13 years at Johns Hopkins. What are your proudest achievements during that period?
We built up the endovascular program at Johns Hopkins Bayview from scratch. It didn't really exist before my arrival. Within a year, we were doing 300 cases; by the 5th year we were doing over 1,000 cases every year. We did many firsts, including the first endovascular repair of rupture abdominal and thoracic aneurysms. We did a first carotid stent with distal embolic protection and first carotid stenting with cerebral flow reversal in the region.  Simultaneously, we were able to build up the research program and collaborate with industry to get a lot of the new devices tested. Today I have over 30 clinical trials running, and I built a clinical research center, with very little support. Within seven years, Hopkins asked me to lead their entire clinical research program for the entire department of surgery, which is several hundred faculty. That's what I've been doing for the last five years, helping faculty in different disciplines initiate and run their clinical trials, and mentoring the junior faculty. Our clinical research center team today is one of the most diverse teams at Hopkins with over 20 members from all over the world and more than half are women. And I still have a busy clinical practice with over 350 cases a year.
Why leave something that is working so well?
I felt that in order for me to have a national and international impact in the field of vascular surgery, the next step was to lead a superb division. I want to build a team in vascular surgery and mentor faculty to ultimate success clinically and academically.
What about UC San Diego enticed you?
One of the most important factors in choosing a job are the people you're going to work for and with.  I felt that the team here, from Dr. Bryan Clary, the Department Chair, to the Dean and the CEO, to the entire vascular team and surgical faculty, as well as the administrative staff, were genuinely sincere people whose number one priority is patient care.
I also felt that there's a commitment from the leaders of this institution to grow vascular surgery, including hiring new faculty and bringing in new technology. We are going to build a second endovascular suite in La Jolla that will have the top-of-the-line endovascular equipment. This will allow us to do the most sophisticated endovascular procedures in the world with the least amount of radiation to our patients and surgical team. All this will enable UC San Diego to become one of the premier vascular programs in the country.
And last but not least, my entire family lives between Orange County and San Diego, so it's like coming home.
What are your clinical ambitions for the Division of Vascular and Endovascular Surgery?
Patient care is the foundation for everything. The market here is obviously very strong and competitive. Our role will always be to provide the most complicated, high-quality vascular and endovascular care and to act as the main academic referral center for our community providers. My first priority is to provide the best care for our regional patients in Southern California.
My vision is not only to lead tertiary care regionally, but also to be a major competitor   nationally. There is no reason why vascular surgery at UC San Diego should not be recognized nationally as a major player in both complex vascular and endovascular care and in clinical research.  Ultimately, I want patients to fly from across the country to get their complex care at UC San Diego. After all, no one minds visiting San Diego.
Another goal is to initiate a complex aortic center that treats all aortic pathologies—from the aortic valve to the iliac arteries—with the most advanced open and endovascular techniques, including ascending aortic aneurysm and dissection with collaboration with cardiac surgery, and fenestrated and branched endografts for aortic thoracic arch and thorocoabdominal aortic aneurysms.
In the area of carotid disease, I would love for San Diego to have the top program in the country in carotid artery revascularization and I look forward to collaborating with the superb cardiology, neurology, neurosurgical and neurointerventional team at UC San Diego.
Your Twitter feed is full of posts from trainees and younger faculty thanking you for your mentorship and helping to point them in the direction that they are now going. What does being a teacher and a mentor mean to you?
You cannot be in academic medicine and not love teaching. Educating the next generation is the part of my job that I enjoy the most. Teaching and mentoring the younger generation of students, interns and residents and seeing them grow and mature into surgeons—it's phenomenal. 
UC San Diego offers a fellowship in Vascular and Endovascular Surgery, which is directed by Dr. Dennis Bandyk. What are your hopes for that program?
We have what is called a 5-2 program—trainees do a 5-year general surgery residency, and then come to UC San Diego for a two-year fellowship. There's a huge shift in the paradigm of training in this country, and medical students are increasingly going into 0-5 programs. The vascular and endovascular field has become so vast and complicated; it requires extensive training. So, I definitely want to work hard to get UC San Diego credentialed and approved for a 0-5 fellowship, in addition to maintaining the 5-2 fellowship. As we build a state-of-the-art center, we will attract the top medical students locally, regionally and nationally to come to San Diego for their training.
You said you always wanted to be in medicine, from the time you were little. Have you ever had any doubts?
In my case, it was a straight path—I knew what I wanted to do and I went for it. There was honestly never a moment of doubt. There was a point in my life when I thought this was destiny.