Q & A with Dr. Frederic Kolb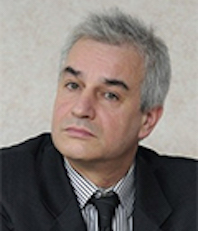 The Division of Plastic Surgery welcomed Dr. Frederic Kolb to their faculty earlier this month. Dr. Kolb is internationally known for his contributions in microsurgical reconstruction and oncoplastic treatments in a variety of cancer resection and reconstruction.
Dr. Kolb graduated from the Xavier Bichat School of Medicine in Paris in 1989. He completed his general surgery, plastic surgery, and microsurgery training in Paris. His Plastic Surgery Chief Residency was at the Gustave Roussy Cancer Center from 1997-2000, and he stayed at this institution becoming their first reconstructive plastic surgeon.
Beginning in 2000, Dr. Kolb built a world-renowned Plastic Surgery Department at Gustave Roussy and served as Chief of the Department from 2011-2018. Dr. Kolb's research focus at UC San Diego will be on composite bioengineered tracheal reconstruction, which he has been investigating for the past eight years. This innovative research project brought him to UC San Diego in 2014 during his research sabbatical, and he collaborated with Dr. Adam Engler's lab at the Sanford Consortium from 2014 to 2016.
Here we interview Dr. Kolb about his interest in working with both plastics and wood, the future of plastic surgery and his first (or, it turns out, second) impressions of San Diego.
---
August 28, 2019 | Interview by Tiffany Fox
Q: What brought you into the field of surgery or plastic surgery?
Kolb: I got into medicine because I always enjoyed the humanities and human relations, and surgery because I like to create things with my hands, and plastic surgery because I felt it would be the specialty that would allow me to be the most creative with my hands. However, I am far from considering plastic surgeons as artists, and look at them more as craftsmen. I feel myself closer to being a cabinetmaker than a sculptor. I am choosing this example on purpose as I have always been attracted to working with wood and have the same pleasure when looking at one of my creations, whether it is a piece of furniture or a reconstructed mandible.
Q: What is the difference between working with wood and working as a plastic surgeon?
Kolb: The technique is not so different when it comes to working wood versus working with bone. We use the same instruments and techniques as the cabinet markers. Connecting two pieces of wood is very similar to connecting two pieces of bone. But we also work with soft tissues and have the pleasure of combining these two different elements.
Q: What were some early experiences you had that are fundamental to who you are as a surgeon?
Kolb: Definitely being trained in the hospital I was before, Gustave Roussy, changed my approach to treating a patient. It changed the vision I had of being a doctor. The main idea is that a patient does not belong to you, he is not YOUR patient. Instead, he is managed by a team of physicians that bring their best knowledge and expertise to the patient in order to treat him the best possible way. That was something special about Gustave Roussy that led me to apply for a definitive position there. My professional life was built on this concept and approach.
Q: Were you always interested in plastic surgery?
Kolb: Yes, and once again because I saw that it was the specialty that would allow me to be creative. However, when I started at Gustave Roussy, I was embedded in the Head & Neck department and performed the traditional ablative surgeries. And I did enjoy this surgery, to the point that I never dropped this activity out of my practice. But I rapidly broadened my activity to include the rest of the fields covered by my specialty. In an Oncologic center it means dealing with breast, skin and soft tissue cancer. Head and Neck still remains my field of excellence but I am also very much involved with skin and breast cancer. With time I also became the French expert for pediatric Head and Neck and soft tissues cancer surgery.
Q: How has surgery evolved throughout your career?
Kolb: It has evolved a great deal. When I look back at my training period and first years of practice, what I am doing today is definitely not the same surgery. I saw the great revolution of perforator flaps overtaking the place of conventional ones. It changed completely my surgical technique and tissue management. But the greatest changes are being brought inexorably by the introduction of new technologies. To start with, we have the new operative microscopes with enhanced magnification power along with refined micro-instruments that enabled us to move from micro to supra-microsurgery. But the greatest changes rely in technologies that are taking the place of our hands and/or eyes. I witnessed and accompanied the introduction of CAD-CAM and 3D technologies that replaced the arbitrary osteotomies coming out of our hands, eyes and physical sensations. That took a lot of poetry out of our practice, but it introduced reliability and reproducibility for the sake of the patient. Robotic surgery is in the process of replacing our imperfect shaking and cumbersome hands to reach distant and narrow locations of the body through minimal incisions. In very few years, our limited vision will be replaced by augmented and/or virtual reality bringing additional essential information in our operating field. These are exciting perspectives but on the other hand I see our old way of practicing surgery going away, with some regrets as it is our creative and artistry that is at stake. It is our challenge to keep creativity in the center of our practice.
Q: How would you say plastic surgery is different from other surgical divisions?
Kolb: It differs in two ways: First we are a specialty of collaboration and we are meant to work with our colleagues from other surgical specialties. Suspicion or rivalries can render this collaboration difficult sometimes. But I have to say that it has never been the case throughout my career. Your behavior is essential. If you keep in mind that your goal is to provide others your expertise and that other specialties can feed you with their knowledge, there is usually no reason why nice collaboration can't be established, for the patient's sake. So far I have developed wonderful collaboration with neurosurgeons or thoracic surgeons besides, of course, H&N, orthopedic and pediatric surgeons. Secondly, our activity leads us to operate on every part of the body and in that regard, we are probably the last general surgeons.
Q: What would you say is the reason you were so highly sought after at UC San Diego?
Kolb: Highly is probably too strong, and this is the first question I asked myself when Amanda Gosman reached out to me. Beside the fact that her offer really pleased me and honored me, and I will never thank her enough for this, I really wondered why. The United States are full of talented surgeons that are probably dreaming of living in the San Diego area. So these are some of the reasons that I could find:
First of all is my unusual profile. There are not a lot of plastic surgeons who have dedicated their entire career to oncology. I built the first plastic surgery department in an oncologic center and introduced the term "oncoplastic surgery" in France. It is a term that is commonly used today for breast surgery, but I apply it for all the areas where plastic surgery meets oncologic surgery. I particularly emphasize the fact that plastic surgeons need to master the oncologic needs of the patient they are treating.
Second is my capacity to build bridges between specialties. I am looking forward to collaborating with all the specialties the way I did in France.
Third is my training in supramicrosurgery, a field of plastic surgery that deals with surgery on vessels less than 0.5 mm in diameter. This sub-specialization has allowed me to develop two areas. The first one is the surgery on lymphatics, which offers a surgical treatment option to patients presenting a lymphedema. This is especially important for women who were treated for breast cancer, but also other cancer with lymph node dissection and radiotherapy. This surgery is done through either LVA (lymphatico-venous anastomosis) or lymph node transfer. The second one is vascularized nerve graft that interest patients with nerve injuries. I especially developed this technique for facial palsy.
Finally is my research portfolio. I am especially interested in bioengineering and my material and method are based on a model of bioengineered trachea, a field that has been the center of many debates recently.
Q: What about working at UC San Diego are you most excited about?
Kolb: I definitely look at UCSD as the place on earth that gathers all the equipment, bioengineering and clinical teams, facilities and companies that will participate in making the future of surgery and especially plastic surgery. I am looking forward to using all these possibilities and conducting research with wonderful and professional people.
Q: What are your research interests?
Kolb: Clinically, there are a lot of subjects that are ready to be developed. Starting a program of robotic mastectomy, as we did in my former department, is one of them. But a lot of questions remain when it comes to reconstruction of the breast, and it is the same for the other specialties. In fundamental research I am looking forward continuing the research I have in the field of bioengineering using the tracheal replacement model as a guide.
Q: How have you enjoyed San Diego so far?
Kolb: Very much! It would be very hard not to. But San Diego has always had a very special place in my heart. I have a little American background as one of my grandmothers was American. She came in the 1920s to France, where she met her husband. Throughout my childhood she would tell me bedside stories about Long Beach, California, etc. where she grew up. I was 16 years old when I first came to San Diego to visit my relatives, who were and are still living in La Jolla. I then came regularly while attending med school in France. I actually completed three rotations at UCSD while Dr. Moossa was the head of the Department of Surgery. Finally, I worked from 2014 until 2016 at the Sanford Consortium in the laboratory of Adam Engler, on a J1 Visa issued both by Marek Dobkefor the Division of Plastic Surgery and Jeffrey Harris for the Division of Head & Neck Surgery.
That means that I have been cherishing UCSD and San Diego for a long time and I particularly enjoy interacting with the people here that I find really nice and welcoming. Their art of living really appeals to me.
Q: That's nice to hear from a Parisian!
Kolb: Let me tell you, I don't think we differ a lot and we have more in common than we have differences. Your way of life is not so different from the one I use to have in France. This is definitely something I wouldn't say for every part of the United States, but here I feel like home and people don't make me feel like a stranger.