Q & A with Dr. Romeo Ignacio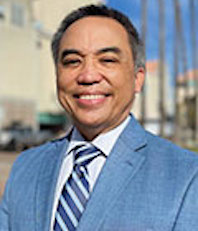 Dr. Romeo Ignacio of our Division of Pediatric Surgery is one of the more recent additions to our department. He brings a wealth of experience from serving for more than two decades in the U.S. Military, including overseeing the General Surgery Residency at the Balboa Naval Medical Center and serving as the Advance Echelon Surgeon on the USS Mercy. Here Dr. Ignacio discusses what he learned, what he misses about the Navy and what he has experienced transitioning from military to civilian life.
Q: What was your biggest takeaway during your time working as a surgeon in the Navy?
A: My biggest takeaway from the Navy is succinctly stated by the adage "Leadership is not a position or title, but it is action and example". During my 24 years with the military, the U.S. Navy provided many opportunities to lead. Whether leading a rescue operation overseas, a surgical department, a general surgery residency program or large-scale humanitarian expedition, people will follow if they know you (as their leader) are committed to the team and the mission. This takes honesty, good communication, and diligence. It mandates accountability, availability, and assertiveness. (It is no surprise that these leadership characteristics are like those we desire in surgeons.) I am immensely grateful to the military for such leadership experiences and will continue to exemplify these qualities as a civilian surgeon.
Q: What did you learn from your time overseeing the General Surgery Residency at Balboa Hospital?
A: As a program director, I quickly gained an appreciation of how much General Surgery training has evolved over the past 15 years. For many doctors who trained before the 80-hour work week (like myself), we feel that the countless hours in the hospital contributed to our competency, confidence, and success as surgeons. However, it sometimes came at a cost to our personal well-being and our families. Terms such as "physician wellness", "core competencies" and "sleep hygiene" were not part of the old surgical curriculum.
However, I realized residents today are challenged in different ways with more advances in technology, complexities in surgical education in addition to the duty-hour restrictions. I do believe that such changes in surgical training are there to "work smarter not longer". It is our responsibility as program directors (and mentors) to support them during their pivotal training years as well as fostering the surgical traditional values of ownership, integrity, diligence, and professionalism.
Q: What was your experience like working on the USNS Mercy?
A: Being a part of the large-scale humanitarian missions on the USNS Mercy was one of the most rewarding parts in my career. As the Advance Echelon Surgeon who organized the missions in the Philippines and Cambodia, I collaborated with various U.S. State Departments, host nation health ministries, individual health care providers with the resources on the USNS Mercy hospital ship to deliver care to over 100,000 medical patients and provide operations for over 900 patients . The unique opportunity to learn different cultures, health care systems and dilemmas encountered in third world countries was eye opening. In addition, the privilege to organize such a diverse group of surgeons, physicians, nurses and translators from nine different countries and see it come to fruition was truly amazing. It is one of the major reasons why I now annually volunteer as a pediatric surgeon to participate in humanitarian missions in Central American.
Q: What are the main differences between military and civilian practice?
A: I think one of the major differences between the civilian and military life is the dual roles that are required by Naval medical officers. In one aspect, you are asked to serve the U.S. Navy as surgical support for combat missions and readiness of the active-duty forces. This role demands that you are a true general surgeon onboard a ship, at overseas hospital billets, and in austere environments. On the other hand, one must serve as educator and hospital provider at various medical treatment facilities. As a subspecialty surgeon, these dual roles can be opposing because it takes you away from honing on your operative practice. Nevertheless, I sincerely have no regrets of having a military career. The challenge of serving such different roles allowed me to expand my horizons as a leader, encounter unique opportunities throughout the world as a pediatric surgeon, and travel to four continents with my family. To this day, I still miss being a part of the U.S. Navy.
Q: What has your experience been like so far as part of the Pediatric Surgery team at Rady Children's Hospital?
A: For many retired surgeons, the adjustment to leave the military can be difficult. For over two decades, all that I knew was wearing a uniform and the Navy way of life. However, my partners at Rady Children's Hospital have contributed to an effortless transition. I have enjoyed their camaraderie and the opportunities to learn from such an outstanding group of surgeons. Also, the resources from the Department of Surgery have helped me navigate throughout the academic promotion process as well as open doors for academic funding. Lastly, being a part of UCSD SOM has opened more opportunities to connect with various surgeons across the country and build new collaborations for various research projects and scholarly activities. Overall, it has been a gratifying experience to be part of UCSD/Rady Children's Hospital family.