Q & A With Dr. Rebekah White
US President-Elect Dr. Rebekah White: Supporting and Advancing Leaders in Academic Surgery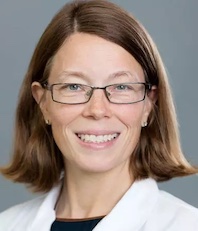 We are most pleased to share the news that Rebekah White, MD, FACS, of our Division of Surgical Oncology was recently elected to the role of President-Elect of the Society for University Surgeons (SUS). Dr. White is part of the gastrointestinal cancer unit at UC San Diego Health's Moores Cancer Center, where she works alongside a multidisciplinary team to provide cancer patients with advanced surgical options that are best suited to their individual needs. In addition to the SUS, she is a member of the American Association for Cancer Research and the American Society for Clinical Oncology. Read on to discover the mission of the SUS, what Dr. White hopes to achieve during her term and why participating in the SUS makes her a better surgeon.
Q: What is the mission, in your own words, of the SUS?
A: The mission of the SUS is to support and advance academic surgeons, especially mid-career surgeons who no longer qualify for some of the "breaks" available to more junior or early-career surgeons, but who still need mentorship, networking, and career development opportunities.
Q: What roles have you played in the organization until now?
A: I started on the executive council as a representative to the Association for Academic Medical Colleges then was selected to serve as the chair of the Publications Committee. This is a two-year position that runs the Academic Surgical Congress, which is the largest academic surgical meeting in the country, with over 2000 attendees. I was then selected to serve as the chair of the Scholarship Committee, which was a three-year position that oversees several research and travel grant programs sponsored by the SUS.
Q: How long is your term as President and what do you hope to achieve?
A: I will serve one year as President-Elect, during which I will serve on several committees, then one year as President. The SUS supports all types of academic activities, but—as a surgeon that runs a basic/translational laboratory—I am most passionate about helping other surgeons maintain and grow their research programs. It is hard for clinicians—especially surgeons—to compete with "full time" scientists in this competitive funding environment. I hope to grow our portfolio of SUS-sponsored grant programs and build a peer grant review network that will help make our members more competitive for other external funding.
Q: How does participating in SUS make you a better surgeon?
A: One of the best parts of participating in a society like the SUS is establishing relationships with other surgeons who share your interests. I have friends all over the country that I can reach out to for advice on almost question, clinical or scientific, or even for personal career-related advice.
Q: What other skills or benefits have you derived from your work with SUS?
A: The SUS offers several different courses that I have participated in as both a learner and a speaker, including a grant-writing course, a one day mid-career development course, and a more intensive multi-day surgical leadership course that I will chair as President.
Q: How do you balance your clinical work with your work for the Society?
A: I wish I could say I was extremely efficient, but I just stay up late and get up early!