Q & A: Nicole Goldhaber, MD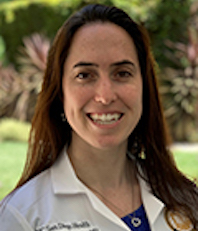 Congratulations to UC San Diego Surgery's Nicole Goldhaber, MD, a General Surgery Resident who has received a Lean/Six Sigma Best in Class distinction for her Green Belt cohort. Dr. Goldhaber – a graduate of Harvard Medical School – spent the first of two research years at UC San Diego Surgery focused on Perioperative Quality, Informatics and Education. As part of her project for Lean/Six Sigma, Dr. Goldhaber created a new communication approach for the surgical timeout process by which the surgical team takes a pause to make ensure that the right patient is receiving the correct procedure, that all necessary resources are on hand and all safety protocols are being followed.
Q: What was your project and why was it recognized?
A: ​The project is titled "OR Specimen Squad", and the main goal is to help improve communication in the operating room pertaining to pathology specimen collection and transportation. As part of Lean/Six Sigma Green Belt training through that UC San Diego Health, I created a new communication process based on visual cues to incorporate into and enhance the existing surgical "Timeout" process.Visual labels for each main pathology type were created, and when the surgeon discusses the intended pathology type plan, the OR nurse will display the corresponding visual label on the main board for the duration of the case.
Q: How might your project benefit the department or the field of surgery on the whole?
A: Surgical pathology specimens are often the primary reason a patient is having a surgery – to obtain a diagnosis or remove harmful lesions. When errors occur in the collection, transportation or processing of these specimens, patient care is compromised, and occasionally patients even require subsequent unplanned invasive surgeries as a result. By improving communication in the operating room pertaining to pathology specimens with consistency through visual representations, we will reduce these errors and improve patient care.
Q: What drew you to the field as a surgeon?
A: I have been drawn toward the field of surgery not only because of the procedural nature of the specialty and "hands-on" approach to patient care, but also because of the multidisciplinary team structure embedded in the heart of the specialty to be successful. Coming from a background in athletics, teamwork has always been a signature aspect of my life. In surgery, teamwork is equally critical; and even for this specific project, it is evident that without effective communication among team members in the OR, costly mistakes get made. And I could not have completed this project without the support of my Specimen Squad teammates! (Dr. Kristin Mekeel, Ronald Deleon, Nicholas Hilbert, Lily Angelocci and more!)
Q: What motivates you to keep going?
​ A: ​Though a long road, I am motivated to keep going by my teammates. As I progress in my surgical training, I look forward to being a part of more surgical teams (not unlike winning volleyball teams) focused on developing and implementing new strategies to help patients.
Q: In what direction would you like to see the field of surgery heading in the coming decades?
A: ​One of the main principles from my Green Belt training that stuck with me is to "fix the process, not the people." I would like to see the field of surgery embrace this and address problems with a process-based (and team-based) approach rather than target specific individuals.