Q & A with Dr. Luis Cajas
Shifting Mentalities and Serving Patients in El Centro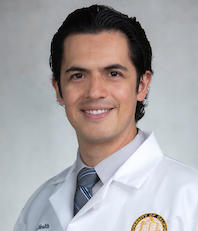 One could say that the career of Luis Cajas, MD, has come full circle. A native of Guatemala, Dr. Cajas completed his general surgery resident training with UC San Diego Surgery in 2017, where he spent time on special assignment at El Centro Regional Medical Center (ECRMC), 100 miles to the east of UC San Diego in Imperial Valley. This one-year assignment was part of a partnership between the City of El Centro and UC San Diego Health to enhance the delivery of high-quality health care to patients in the Imperial Valley -- a medically underserved area. After completing his term with ECRMC, followed by a vascular surgery fellowship at the Mayo Clinic, Dr. Cajas jumped at the chance to return to ECRMC this year as a vascular surgeon, splitting his time there and at UC San Diego Health.
A native Spanish speaker, Dr. Cajas serves a patient population in El Centro that is 85-90 percent Spanish speaking (many of the city's 44,000 residents reside both in the United States and Mexico and cross the border frequently). We interviewed Dr. Cajas about his experience at ECRMC over the past three years, the challenges he faces serving this unique patient community and the factors that motivate him to stay engaged as both a clinician, an educator, and a family man.
Q: How has your experience in El Centro changed since you began working there?
A: When I first started working in El Centro, I was a general surgeon. I was able to help the community, and I also learned how to become an attending surgeon and feel comfortable with my clinical judgment and surgical skills. This was tremendously helpful when I went to fellowship (at the Mayo Clinic), as I felt more mature and I could really focus on honing in my vascular surgery knowledge. Now, I am back to El Centro in the capacity of a vascular surgeon, which I find challenging and rewarding. Most people in El Centro, including medical personnel, do not really understand what my skills are and what services I can offer. It has been a fun challenge to go out into the community, clinics, other hospitals to explain what I can do and the range of diseases that I can treat. Vascular disease in El Centro is either unrecognized or untreated until it is so severe that few options are left for the patients. I have already started to see a shift in the mentality and I am receiving more calls and consults for patients earlier in the disease process, which is exactly what we are hoping to see. It is also great for patients to know that if anything more complex is needed, they can come to UC San Diego and they will still receive treatment with me. I think it is important for this population to feel that their surgeon, with whom they have established a trusting relationship, is the same person treating them in both places.
Q: What are the challenges the community currently faces in terms of healthcare?
A: Challenges in healthcare continue to be similar. The COVID epidemic hit the valley very hard and they are still recovering from the sequela. Many chronic problems worsened and were left untreated. The ratio of surgeons has improved for general surgery as the valley has hired more full-time surgeons. In terms of vascular surgery, it has also improved since they have one now.
Q: How has your practice evolved in recent years?
A: I think my practice now is the best of both worlds and really fits me. I have a hybrid practice now, where I can go to El Centro and see patients in an area that has less resources and then also see patients here at UC San Diego, where we have all the resources. It has helped guide how I treat patients in El Centro and also how I have interacted with the radiology department. I have been working very closely with the ultrasound technologists to develop protocols that are similar to our vascular lab at UCSD. I have found many energetic people in the OR and in the radiology department who are interested in improving the quality of care for the patients and they have been instrumental in developing said protocols for screening and surveillance of patients.
Q: How does your fellowship at Mayo inform your clinical practice now?
A: I am very happy I trained at Mayo Clinic. MC is a little bubble of an ideal medical environment. All of the medical staff is invested in the idea that 'the best interest of the patient is the only interest to be considered.' There is great collaboration between specialties and departments. I feel that this happens less so in other places, and especially in a small town where there are many concerns, including cost and convenience, that sometimes take priority for patients. I have tried to maintain a high standard for myself and always dress professionally and treat patients with the utmost respect and diligence that I can provide.
Q: What most excites you about vascular research of the future?
A: Technology continues to improve and the possibilities for vascular surgery seem endless. I am very excited about the prospect of radiation-less surgery. There are new proposed technologies that may let us do the endovascular work without needing x-ray. I am also interested in what robotics can bring to the field of vascular surgery. I am really excited to have the mentorship of Dr. Mahmoud Malas in using big databases, because I believe this is how we will get the right data to figure out the best treatment algorithms for patients in real practice and not just the theoretical.
Q: What keeps you going?
A: There are many factors that keep me motivated. I like teaching and enjoying spending time with the residents and medical students. I enjoy being at a referral center where we get to treat the most complicated cases, for example removing an infected aortic graft and repairing the aorta of a patient with an ejection fraction of 15%. I am glad I can continue to work with an underserved Hispanic community – it makes me feel that I can give back and use my knowledge and training in order to help a group of people who would otherwise have no recourse. My family has continued to grow and I now have a three-year-old and three-month-old daughters. My family is a big motivator for me to continue to do well and work hard. I want them to be proud of the father and husband they have.