Bringing Better Health Care To El Centro
January 22, 2018 | Lindsay Morgan
If you get in your car and drive about 100 miles down interstate 8 East, you will find yourself in a city called El Centro. El Centro is the largest city in the Imperial Valley, only 17 miles from the border with Mexico, and the largest American city to lie entirely below sea level. Many of the city's 42,000 or so residents reside both in the United States and Mexico and cross the border frequently.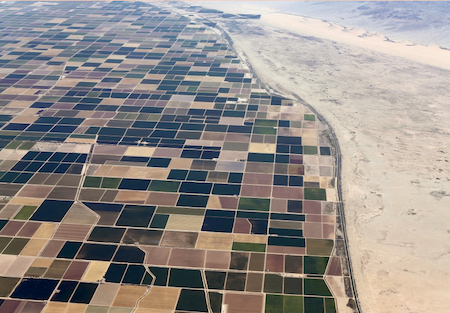 Imperial County is one of the more impoverished counties in California and has among the highest rates of chronic disease.  Primarily dependent for employment on farming, government, and prisons, unemployment hovers at around 20%.
Much of Imperial County is designated as a medically underserved area, due to a relative shortage of medical providers—including surgeons.
According to a report from the American College of Surgeons, Health Policy Research Institute, "The 1980 Graduate Medical Education National Accreditation Council (GMENAC) report recommended 4.7 general surgeons per 100,000 population as the minimum acceptable ratio. In 2004, the health care research and consulting firm Solucient issued a report recommending a minimum 6.01 general surgeons per 100,000 population nationally."
This gap prompted a long-term management services agreement, signed in 2015, between the City of El Centro and UC San Diego Health, to enhance the delivery of high-quality health care to patients in the Imperial Valley, with a focus on the El Centro Regional Medical Center (ECRMC)—the city-owned hospital.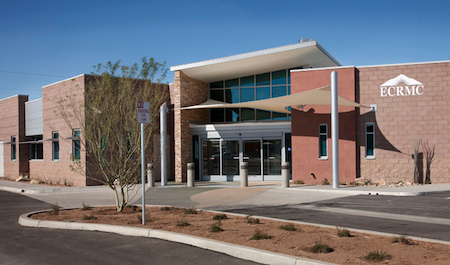 ECRMC is an acute-care medical center that has served the health care needs of the Imperial Valley since 1956. In addition to the 161-bed hospital, ECRMC also owns and operates the Oncology & Hematology of Imperial Valley, Wound Healing Center and outpatient clinics in El Centro and Calexico.
The partnership agreement with UC San Diego included a clinical and operational needs assessment of ECRMC; development of a management plan; and clinical collaboration.
"This collaboration represents an important step forward for patients in the Imperial Valley as we complement the existing physician providers with UC San Diego expertise and resources.  The presence of my family and friends in Imperial County brings a personal dimension to our efforts in partnering with ECRMC" says Dr. Bryan Clary, chair of the UC San Diego Department of Surgery and a native of Imperial County.
As part of the institutions' clinical collaboration, the UC San Diego Department of Surgery placed one of its resident graduates, Dr. Luis Cajas, on a one-year assignment at the hospital.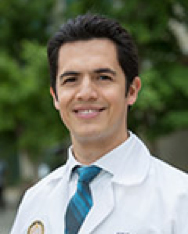 Dr. Cajas, a native of Guatemala, who completed his general surgery resident training in 2017 and had a gap year before heading to the Mayo Clinic for a vascular surgery fellowship, was eager to take the placement. 
"The year before I went to El Centro, they basically had one permanent general surgeon, and most of the call days were filled with locums. Dr. Clary wanted to get somebody there to try to help and suggested hiring me as the point person. It seemed like the ideal job. There was a large need; and 85-90% of the patients are Spanish speakers, so Spanish being my native tongue is extremely helpful and makes people feel a little more comfortable. And I have the connection to UCSD which gave me the support."
 
ECRMC was similarly thrilled about the arrangement. "Most of their physicians come for 2-3 days but mainly live in San Diego," says Cajas. "When we told them: we're going to move here, I'm going to be a full time general surgeon—it was open arms. Everybody was like: great. When do you start?"
As one of the indicators of the community's need for Cajas's expertise: as soon as he began, his clinic was booked out one or two months in advance and his operative days were full with patients in need of care. Normally it can take months for graduates from residency to build up clinical volume and become established.   
In addition to managing low complexity general surgical conditions, Dr. Cajas's presence has facilitated more convenient follow-up care of patients with more surgical conditions who undergo procedures and evaluation at UC San Diego Health facilities in San Diego.
Cajas will depart ECRMC this summer and begin a two-year fellowship in vascular surgery at the Mayo Hospital in Rochester, Minnesota.   The positive experience for patients has led UC San Diego and ECRMC to hire a replacement for Dr. Cajas and an active search is underway.
"We are dedicated in the long term to help elevate the quality and offerings of surgical care in ECRMC and look forward to partnering with patients in the Imperial Valley and ECRMC leadership in doing so," says Dr. Clary. 
Cajas says that the year in El Centro has changed his perspective. "Before this year, I fully wanted to be an academic surgeon. I wanted to be at a big institution, I wanted to do research. Now I'm a little conflicted. I still value teaching; I still have a MPH and I still want to use that in surgical outcomes research, but I think I would really miss being in a community where I feel like a needed member of the society."