Inhibition of NOTCH3 Cleavage Reverses Pulmonary Arterial Hypertension in Animal Models, UCSD Researchers Find
Inhibition of NOTCH3 Cleavage Reverses Pulmonary Arterial Hypertension in Animal Models, UCSD Researchers Find
September 13, 2017 | Lindsay Morgan
Pulmonary arterial hypertension (PAH), a form of high blood pressure in the lung's arteries, affects more than 100,000 people in the United States, causing approximately 20,000 deaths per year. The disease begins when smooth muscle cells proliferate in and around tiny arteries in the lungs, which become narrow, blocked or destroyed, causing resistance to blood to flow. As the pressure builds, the heart's lower right chamber becomes overworked and weakens, leading to right heart failure and death. There is no known cure, and the only treatment is lung transplantation.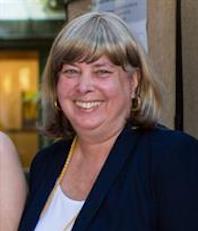 UC San Diego researchers have discovered a key pathway that controls this proliferative process – the NOTCH3 signaling pathway. Patricia A. Thistlethwaite, MD, PhD, a cardiothoracic surgeon and professor in the Department of Surgery at UC San Diego School of Medicine, has been studying the disease for more than a decade. "If we understand the genes that induce vascular smooth muscle cells proliferation, we will be able to unravel the cause of pulmonary arterial hypertension and devise drugs to treat this disease."
With funding from the National Institutes of Health, Dr. Thistlethwaite and her co-investigators have demonstrated that mice that lack NOTCH3 are resistant to the development of PAH. More importantly, mice that are genetically engineered to overexpress HES-5 in lung vascular smooth muscle cells, spontaneously develop the disease.
"This is convincing proof that NOTCH3 signaling and overexpression of its downstream effector, HES-5, are required for the development of pulmonary hypertension," says Dr. Yu Zhang, a senior postdoctoral fellow in Thistlethwaite's lab. The results of this work have been published in Nature Medicine and Circulation .
Currently, Thistlethwaite's research team is devising drugs that selectively block NOTCH3 signaling to treat pulmonary arterial hypertension, with the goal of bringing their research from bench to beside. Together with a Cambridge, MA-based pharmaceutical company, the team has developed a humanized monoclonal antibody that selectively blocks NOTCH3 signaling. In rat and mouse experiments, when given intramuscularly, the monoclonal antibody reverses PAH and silences NOTCH3 signaling in the pulmonary vasculature. Experiments to test this treatment in a preclinical pig model of PAH are ongoing.
Dr. Jason Yuan,Professor of Medicine andAssociate Vice President for Translational Health Sciences at the University of Arizona,says, "The work that Dr. Thistlethwaite has done in pulmonary vascular disease is ground-breaking. She is a strong role model for physician-scientists, showing that a surgeon can function at the highest level of science."
In addition, Dr. Thistlethwaite, in conjunction with Dr. Mark Mercola, Professor of Cardiovascular Medicine at Stanford (and formerly a Professor of Bioengineering at UCSD) is screening over 50,000 compounds for their ability to block NOTCH3-driven gene transcription at the Conrad Prebys Drug Discovery Center in San Diego, one of the four largest drug screening centers of the NIH Molecular Libraries Screening Initiative.
"Our goal is to develop multiple parallel strategies to block this pathway to treat pulmonary arterial hypertension", Dr. Thistlethwaite says. Drugs and monoclonal antibodies in the pipeline are showing excellent safety profiles and efficacy in cell-based and animal models."
---
Dr. Thistlethwaite is a graduate of the Harvard Medical School, and did residency training at the Massachusetts General Hospital and the University of Pittsburgh. She was recruited to UCSD in 1997 by Dr. Stuart Jamieson, then Chair of the Division of Cardiothoracic Surgery. She practices thoracic surgery, with an interest in lung cancer and minimally-invasive surgery, in addition to her research pursuits. Dr. Thistlethwaite is the President Elect of the Western Thoracic Surgical Association.