Point of Care Test to Detect Risk of Oropharyngeal Cancer
May 16, 2018 | Lindsay Morgan
The incidence of head-neck cancer has increased dramatically over the last 10-15 years, and the rise is expected to continue, with the human papillomavirus a key driver. The American Cancer Society estimates that in 2018, about 51,540 people will be diagnosed with oral cavity or oropharyngeal cancer, and an estimated 10,030 will die.
Although these tumors are more treatable and curable than ever before—even at advanced stages—there is currently no test to detect risk for oral cancer and oropharynx cancer, or to stratify the risk of recurrence. The traditional method of screening for risk, visual inspection followed by tissue biopsy, has only 64 percent sensitivity for oral cancer. 1
To address this gap, UC San Diego researchers, led by Dr. Joe Califano, with grant funding from the National Cancer Institute, are testing a point of care saliva test that will detect whether an individual is at high risk for oral cancer and oropharyngeal cancer. By identifying the amount of total protein, together with CD44, a key tumor initiation markerthat is over-expressed in the earliest stages of carcinogenesis, the test will enable detection of cancer risk and recurrence.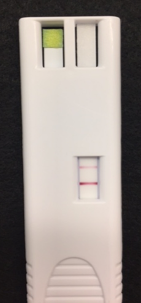 "It's like a pregnancy test," says Dr. Califano, a head and neck surgeon and researcher in the Division of Otolaryngology/Head and Neck Surgery, in the Department of Surgery. "You just stick it in the saliva, let it sit there for 10 seconds, and it reads out results."
Saliva is a complex mixture that contains a variety of potential biomarkers including proteins, enzymes, antibodies, DNA, RNA, and cytokines. Of the many oral cancer biomarkers studied, only a few are being translated to clinical practice. Among them are CD44. 2
UC San Diego is the lead institution and coordinating center in the multi-institutional trial that includes Johns Hopkins, NYU, VA-San Diego, Greater Baltimore Medical Center.
The potential benefits of the test are many. It is affordable, simple, non-invasive, and fast—with results in less than 15 minutes. It requires no special training to administer and can thus be delivered at the point-of-care. In other words, a during a patient visit to their primary care doctor's office, the doctor can conduct a simple risk analysis for head and neck cancer, for example, using a simple questionnaire—i.e., do you smoke, does the patient test positive for HPV, etc.—and if the patient is determined to be high risk, the test is administered. Fifteen minutes later, the results are ready.
Says Califano: "It's a potential game-changer: if you can identify people with high grade pre-malignancy or an early stage cancer then you have a higher chance of curing them with easy to tolerate therapies."
The test also has significant potential for low-resource, high incidence settings, such as India, and UC San Diego is exploring potential collaborations, including with Tata Memorial Hospital in India.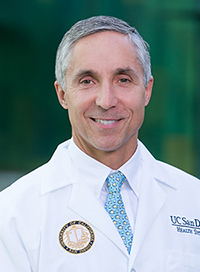 Califano, who trained at Harvard, Johns Hopkins, and Memorial Sloan Kettering Cancer Center before joining UC San Diego in 2015, began work on this project in 2000, when he partnered with Dr. Elizabeth Franzmann of the University of Miami. Franzmann went on to launch a start-up company called Vigilant Biosciences, which produces the test.
"The ability to partner with industry is a real advantage, in that we can accelerate progress much faster in collaboration with innovative companies like Vigilant," says Califano.
The trial began in 2017 and is expected to run through 2021. Patients will be followed for three years to see not only how the product performs in detection, but also how it performs in detecting risk for recurrence. Positive results will then pave the way for getting the product approved for use in the United States.
Learn more about this clinical trial
---
Brocklehurst P, Kujan O, Glenny AM, et al. Screening programmes for the early detection and prevention of oral cancer. Cochrane database of systematic reviews. 2010:CD004150.