Pancreatic Cancer Consortium Meets at UC San Diego
February 15, 2018 | Lindsay Morgan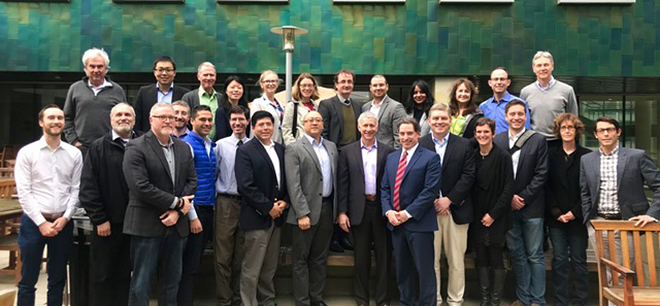 On Saturday, February 10th, UC San Diego hosted leaders in pancreatic cancer for the first disease-specific meeting of the UC Cancer Consortium, which was launched in September 2017.
Attended by leaders in pancreatic cancer care and research from UC Davis, Los Angeles, San Diego, and San Francisco, the meeting was an opportunity to strategize ways for the centers to better work together and leverage their immense collective expertise—with the goal of defeating pancreatic cancer, which is the third leading cause of cancer death in the United States.
"It was a terrific meeting," says Andrew Lowy, MD, FACS, chief of the division of surgical oncology in the Department of Surgery at UC San Diego, and a pancreatic cancer specialist. "We were able to learn about each other's programs and get a sense of the topics folks are most passionate about working on. People were extremely enthusiastic."
At the meeting, pancreatic cancer leads from the four UCs represented provided overviews of their university's pancreatic cancer activities, followed by three research presentations, and a discussion about the groups' strategy and plan. (View the agenda here.)
Following lively discussion, the group identified four areas of future collaboration:
Linking biorepositories—i.e., facilities that collect, process, store, and distribute the tissue resources that facilitate research. By better connecting UC biorepositories, the group will be able to create a larger base to support translational research studies, identify gaps and standardize methods for acquiring and storing tissue.
Creating a clinical trials consortium focused on pancreatic ductal adenocarcinoma and neuroendocrine tumors.
Ramping up a focus on early disease detection and prevention, including a focus on imaging and strategies for chemoprevention.
Teaming up on grant submissions to enhance the ability to secure additional funding.
UC San Diego is a leader in pancreatic cancer clinical care and research. A new high-risk prevention clinic will open at Moores Cancer Center in the spring of 2018, which will focus on the multidisciplinary care of patients at high risk for pancreatic cancer based on family history, genetic susceptibility, high risk lesions such as pancreatic cysts or diseases such as chronic pancreatitis.  
In research, UC San Diego researchers and physicians, together with colleagues at MD Anderson Cancer Center, Johns Hopkins University and other institutions, have been awarded a $7 million grant over four years by Stand Up to Cancer (SU2C) to create a "dream team" to develop new ways to prevent pancreatic cancer. This is the second SU2C grant targeting pancreatic cancer to be awarded to UC San Diego researchers. The first "dream team," which included Andrew Lowy, MD and Tannishtha Reya PhD, was announced in 2015 with a three-year, $12-million grant to study   Transcriptional Reprogramming to Control Pancreatic Cancer. Lowy is also part of the new dream team, which will focus on the identification and management of patients at high risk for development of pancreatic cancer.
Dr. Rebekah White, associate professor of surgery in the division of surgical oncology, was recently awarded a grant to study "irreversible electroporation as an in situ vaccine for pancreatic cancer," and Dr. Michael Bouvet, Professor of Surgery, leads National Cancer Institute (NCI)-funded studies that aim to use fluorescence image-guided surgery to improve the visualization, detection and resection of pancreatic and colon cancer.
"Each UC site has amazing capabilities, but we can be stronger together," says Lowy.
About the UC Cancer Consortium
Launched in September 2017 by UC President  Janet Napolitano, the UC Cancer Consortium is an alliance of the UC's five cancer centers, all of which are designated as Comprehensive Cancer Centers by the National Cancer Institute. Each of the UC cancer centers are hubs of expertise and innovation, and also partner with industry to advance technology, protocols and medicines that become available to practitioners and patients around the world. The consortium will focus on research aimed at improving cancer detection methods and developing and testing innovative treatment options for patients.  
In his column for the La Jolla Light, Scott M. Lippman, M.D., is director of UC San Diego's Moores Cancer Center, notes : "Despite some dramatic improvements in the rates and treatments of some malignancies, cancer overall is expected to eclipse heart disease as the nation's top killer in coming years. The over 200 diseases we call cancer work together to create an undeniable scourge. The UC Cancer Consortium is our combined and commensurate call to arms.
A report that outlines the state of cancer in California and how the Consortium is uniquely suited to catalyze the state's efforts to improve cancer outcomes may be accessed here(pdf).