Opening of the Voice and Swallowing Center

April 24, 2017
The Department of Surgery and Division of Otolaryngology, are proud to announce the opening of the UC San Diego Center for Voice and Swallowing, a regional center of excellence that offers multidisciplinary care for complex disorders involving voice, airway, and swallowing disorders. The Center's team offers a wide range of state-of-the-art surgical and behavioral therapy interventions to help restore and optimize the ability to talk, eat and breathe.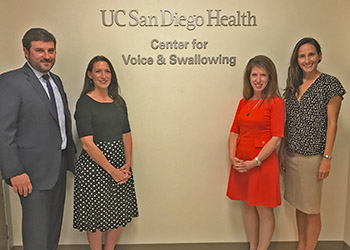 "We are very excited to see this vision become a reality," says Dr. Philip Weissbrod , the Director of the Center. "The Center will provide unique services for the people of San Diego and the surrounding region." Dr. Weissbrod, a laryngologist and member of the UC San Diego Department of Surgery since 2011, is joined at the Center by speech pathologists Liza Blumenfeld , Kristen Linnemeyer , and Erin Walsh .
At the Center, patients are able to undergo, during a single visit, multispecialty evaluation to expedite diagnosis and develop a treatment plan that can include medical, surgical, or behavioral interventions. The Center offers services that are not readily available in the region including care of the professional voice, in-office laser treatment for laryngeal papilloma and dysplasia, in-office injection medialization, laryngeal botox for dystonia, and behavioral treatments including voice and swallow therapy, biofeedback, and tracheoesophageal puncture care for post laryngectomy voice restoration.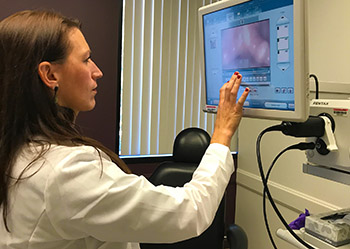 The Center for Voice and Swallowing is the only one of its kind in San Diego County, and one of only a handful in California. "What really differentiates us from the community," says Dr. Weissbrod, "is the highly-specialized skill sets that our staff implement to care for patients." For example, Kristen Linnemeyer is the region's expert in tracheoesophageal voice prosthesis (TEP) care; Liza Blumenfeld is an expert in therapy for cancer related dysphagia; and Erin Walsh, who is a classically trained singer, is the only speech pathologist in San Diego county who treats voice issues relating to singing. These are very experienced practitioners brought together under one roof to provide comprehensive high-level care.
Dr. Jeffrey Harris , Distinguished Professor and Chief of the Division of Otolaryngology notes that the opening of the Center is part of a broader trend: "The opening of the Center reflects a broader move in the UC health system and beyond towards integrated, patient-centered care," he says. "Dr. Weissbrod and his colleagues have created a program of comprehensive medical and surgical care in voice and swallowing, and in doing so, have brought to the community of San Diego such expertise that no one in this region needs to go out of area to obtain specialized care."
Having opened its doors on Monday, April 3rd, the Center was three years in the making. "This is truly a validation of our clinical program and years of hard work," says Dr. Weissbrod. "We are grateful to have leadership at UC San Diego who feel that this is a valuable service for our community worth investing in."
Photos: The VSC team (Dr. Philip Weissbrod and speech pathologists Erin Walsh, Liza Blmenfeld, and Kristen Linnemeyer); speech pathologist Erin Walsh.