Opening of Outpatient Pavilion Enhances Surgical Program
March 5, 2018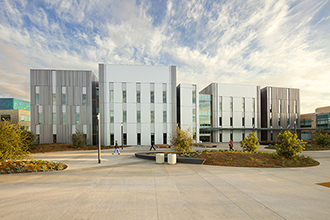 This month marked the opening of the UC San Diego Health Koman Family Outpatient Pavilion—a clinical facility on UC San Diego La Jolla campus. The four-floor, 156,000-square-foot facility accommodates hospital-licensed services and programs to support Jacobs Medical Center (JMC) and other UC San Diego Health facilities.
The outpatient pavilion is the latest addition to UC San Diego's healthcare facilities; following the opening of Jacobs Medical Center in 2017, the outpatient pavilion houses the Disease Centers for Musculoskeletal Health, Breast Health, Urology, Pain Management, and Apheresis, with related services of imaging, rehabilitation, outpatient surgery and pharmacy. The Sanford Stem Cell Clinical Center, developed to transform the enormous potential of stem cell research into effective therapies for patients with degenerative diseases, will also be housed in the outpatient pavilion. UC San Diego Health has invested more than $1.3 billion in patient care facilities over the last five years.
Surgical specialties will see their capabilities enhanced in the outpatient pavilion, which includes eight surgery suites, basic and advanced imaging, physical therapy and pain management, as well as infusion and apheresis services.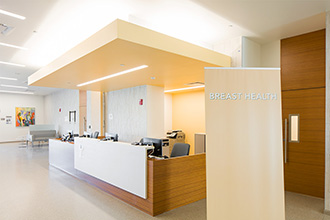 "The Koman Family Outpatient Pavilion is a further example of UC San Diego Health's commitment to the care of patients with surgical conditions," says Dr. Bryan Clary, chief of the Department of Surgery. "The Ambulatory Surgery Center housed within the OPP will greatly expand access of the region's patients to our internationally recognized surgeons and to the services they need—including imaging and rehabilitation. The patient-centered design elements throughout the building are extraordinary and reflect our intense desire to serve patients with compassion and respect."
Most notable is new space for the Comprehensive Breast Health Center , which offers premier breast cancer detection, diagnosis, and personalized care, and is led by Professor of Surgery, Dr. Anne Wallace.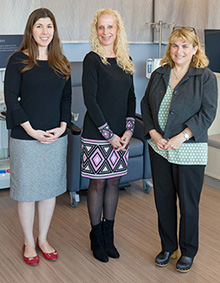 "Previously our services were dispersed between Moores Cancer Center, JMC, and Perlman," says Dr. Wallace. "Now we have this beautiful space where all our services come together—imaging, infusion, pharmacy, clinic, and surgery. The patient comes in, sees their doctor, and then walks right through the door and they're in the infusion center. Or a new patient can get their mammogram and one the same day walk across the hall and come see a doctor in the clinic."
Approximately 60 percent of the top floor of the outpatient pavilion is dedicated to breast services. The infusion area is situated aside floor to ceiling windows, with a view of a canyon to the south.
The Pavilion will also provide space for hearing restoration, sinus procedures, and voice restoration, as well as minimally invasive surgeries.
The Koman Family Outpatient Pavilion is located at 9400 Campus Point Drive, between Moores Cancer Center, the region's only National Cancer Institute-designated comprehensive cancer center, and Jacobs Medical Center. The pavilion was designed by CO Architects and built by Kitchell Construction. You can learn more about the Koman family and the Pavilion's offering
here
.