On the Move: HIPEC For Ovarian Cancer
March 14, 2018 | By Lindsay Morgan
With momentum growing around the potential therapeutic efficacy of HIPEC—heated intraperitoneal chemotherapy—to treat ovarian cancer, surgeons in UC San Diego's Division of Surgical Oncology and Gynecologic Oncologists in the Department of Obstetrics, Gynecology, and Reproductive Sciences, are deepening their collaboration to expand UC San Diego's already flourishing HIPEC program to include patients with advanced stage ovarian cancer.
In February 2018, Dr. Jula Veerapong, associate professor of clinical surgery, and Dr. Ramez Eskander, a Gynecologic Oncologist and assistant professor, performed a cytoreductive surgery, combined with HIPEC, on a patient with advanced stage ovarian cancer. Although surgical oncologists at UC San Diego have occasionally performed these procedures on patients with ovarian cancer in the past, Veerapong and Eskander's collaboration marks the first time surgeons from gynecologic oncology and surgical oncology—both experts in HIPEC—performed the procedure together.
"We're excited to kick start this new initiative," says Dr. Veerapong. "The collaboration between Surgical Oncology and Gynecologic Oncology creates an all-encompassing program for patients with epithelial cancer." UC San Diego is one of 10 high-volume HIPEC centers in the United States.
Ovarian cancer is the 5 th leading cause of cancer death among women in the United States. It is estimated that 22,240 women will receive a cancer diagnosis this year. But the current treatment paradigm—intravenous chemotherapy and cytoreductive surgery—has resulted in limited oncologic gains. Patients diagnosed with advanced stage ovarian cancer have a 5-year survival rate of approximately 45%.
That may be changing. In a recent paper published in the New England Journal of Medicine, van Driel at al 2018 present results from the first-ever randomized, phase three study of the efficacy of HIPEC in patients with ovarian cancer. The study suggests that combining HIPEC with cytoreductive surgery among patients receiving neoadjuvant chemotherapy for stage III epithelial ovarian cancer resulted in longer survival—one year more of life—than surgery alone, without increasing side effects.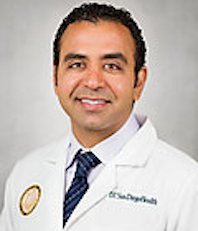 "Being able to offer this option to appropriately selected patients is really important," says Eskander. "Here at UCSD we have gynecologic oncologists who are passionate about identifying effective, novel, therapeutic strategies for patients with ovarian cancer, and surgical oncologists who are nationally recognized for their work in use of HIPEC. When you combine these programs, you are going to get state of the art care and optimized outcomes for patients."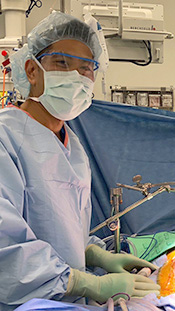 Veerapong agrees: "We are uniquely set up to do HIPEC at UCSD. Not many institutions can offer comprehensive, multidisciplinary, multi-modality care like we do. And because we are a high-volume center, it's easy for us to adapt HIPEC for ovarian cancer. We are hitting the ground running."
UC San Diego surgical oncologists have performed HIPEC on select cancer patients since 2007, when Dr. Andrew Lowy joined the Department of Surgery from the University of Cincinnati . Lowy is recognized worldwide for investigating novel cancer treatments, and pioneered development of the HIPEC program in Cincinnati, demonstrating that it could be done as safely as other complex abdominal cancer operations. As the chief of the division of surgical oncology, he launched UC San Diego's HIPEC program, expanding it substantially with the recruitment of HIPEC experts Drs. Joel Baumgarter, Kaitlyn Kelly, and, most recently, Dr. Veerapong.
Dr. Eskander joined UC San Diego last year from UC Irvine, where he participated in the development and growth of their ovarian cancer HIPEC program. He and Dr. Veerapong are both involved in an international surgical cytoreductive course, and were aware of each other's work prior to their joining UCSD.
"The relationship with Dr. Veerapong, the recently published NEJM paper, plus a desire to move the cytoreductive needle forward here in gynecologic oncology, catalyzed this collaboration," says Eskander.
Hanging Questions
Although vanDriel et al presents the strongest evidence to date, there are still several questions that remain to be answered about HIPEC's use in ovarian cancer.
Says Eskander: "The most exciting question to answer right now in my view is: what do we use intraperitoneally? Is there a role for intraperitoneal natural killer cells? Is there a role for intraperitoneal targeted therapy? We don't know."
Another key question is: who benefits most from HIPEC? "Even in the study that was published [van Driel et al] we could see that not all patients derive a benefit from HIPEC. Are there biologic differences between these cohorts that would predict response to treatment? If we can spare a patient the added toxicity of HIPEC by knowing in advance that they won't benefit, that would be significant."