Leading the Way in Salivary Surgery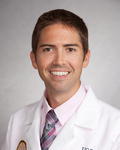 The UC San Diego Health Head & Neck Center is at the forefront of clinical practice and research in several aspects of the management of salivary gland disorders. Dr. Charley Coffey has developed a wide referral base for the use of salivary endoscopy and extended gland-preserving techniques for the management of inflammatory salivary diseases, and serves on the faculty of courses which seek to foster expertise in these techniques amongst head & neck surgeons.
In collaboration with surgeons, radiation oncologists and radiation physicists at UC San Diego Health, the Head & Neck Cancer Center is one of the few sites in the region to offer submandibular salivary gland (SMG) transfer as a means to limit the salivary dysfunction that can significantly affect quality of life for patients receiving radiation therapy for head and neck cancer. Dr. Coffey is the Principal Investigator of an active clinical trial which examines the dosimetric and functional effects of SMG transfer in patients receiving radiation for cancers of the oropharynx. UC San Diego Health recently published the results of a multi-institutional investigation with colleagues at Johns Hopkins/ Greater Baltimore Medical Center and the University of Nevada Las Vegas (UNLV) School of Medicine demonstrating that gland transfer can be effectively implemented in the comprehensive cancer center setting while avoiding delays of care ( Head & Neck, July 2019).
Dr. Coffey was named the Program Chairman for the Neoplastic Diseases section of the 5th International Salivary Gland Congress, which will be held in the United States for the first time this October in Philadelphia, PA.