Kidney Transplant Recipient Meets Donor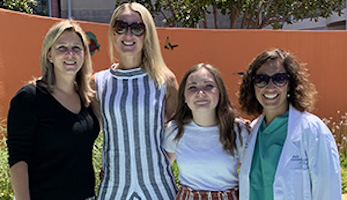 Six months after 14-year-old Kassidy Thomas received a life saving kidney transplant, she and her parents met with the donor, Bristol Hartlage, at Rady Children's Hospital.
Kassidy suffered from Focal Segmental Glomerulosclerosis (FSGS), causing her to need both kidneys removed and be hooked up to machines for 11 hours every day. FSGS is a disease in which the tiny filtering units in the kidneys, the glomeruli, become scarred, rendering the kidneys ineffective.
Kassidy's parents started a Facebook page called "Kidney for Kassidy" to help find a donor for their daughter. Over two and a half years, 500 people volunteered to undergo testing to determine if they were a match. Kassidy was finally matched with Hartlage, and Kassidy underwent the transplant surgery at Rady Children's Hospital in January, where the two met this month.
Kassidy said she struggled to find the words to thank Hartlage. She told NBC7, "I don't know what to say to her. Thank you isn't enough." Kassidy's parents were also overcome with emotion as they embraced and thanked Hartlage. Kassidy's mother told Hartlage, "You saved my daughter's life, you truly did, you are a hero, you're an angel on earth." Jennifer Berumen, MD, Surgical Director of Kidney Transplantation at Rady Children's Hospital was also at the reunion.
Kassidy is now living a normal life, enjoying activities like swimming, riding roller coasters and staying up late. Kassidy's story was featured on local news outlets NBC7, CBS8, KPBS and several others.