Jason Sicklick Reports from Canada and Europe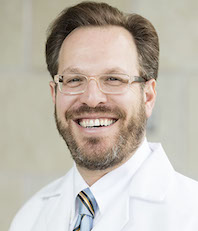 Dr. Jason Sicklick, a surgical oncologist and Associate Professor of Surgery, was in Toronto in October and Italy in November as part of his travels for the James IV Association of Surgeons Traveling Fellowship, which supports young, academic surgeons for a four-week period of travel, with the goal of promoting communication and collaboration in the surgical community.
Dr. Sicklick's clinical practice and research focus on treating and studying patients with gastrointestinal stromal tumors (GIST) and other abdominal/retroperitoneal sarcomas, as well as hepatobiliary malignancies. He is an NIH-funded Principal Investigator with a translational research laboratory, and Principal Investigator of two investigator-initiated clinical trials, including a personalized-precision medicine cancer trial.
Here are the highlights of the Toronto and Italian legs of his James IV travels.
Toronto, Canada
October 17-19, 2018
Hosted by Carol Swallow, I had a phenomenal visit to Toronto, Canada's largest city and the 5th largest city in North America.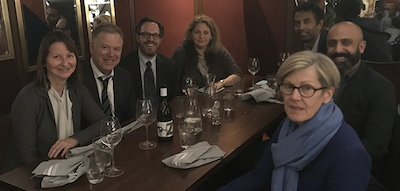 I visited the Princess Margaret Cancer Centre , one of the pre-eminent sarcoma centers in the world, as well as the Mount Sinai Hospital, Toronto General Hospital, and Sunnybrook Health Sciences Centre where I saw old friends— Carol Swallow , Rebecca Gladdy , Sav Brar , Anand Govindarajan [@agovin1], Paul Karanicolas (not pictured), and Ian McGilvray (not pictured). I made new friends, too: Andy Smith , President & CEO, Sunnybrook Health Sciences Centre and past James IV traveling fellow; Dr. Robin McLeod, surgical oncologist, President of the American Surgical Association and past James IV traveling fellow; and Alice Wei, hepatopancreatobiliary surgeon at Toronto General Hospital (not pictured).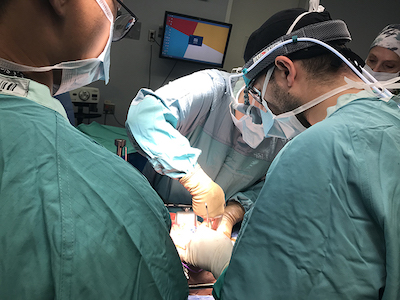 The visit covered so many facets of practice. I participated in the Sarcoma Body Imaging Conference. I attended clinic at Princess Margaret Cancer Centre and Mount Sinai Hospital. I was truly impressed by their multidisciplinary approach to the care of cancer patients. In the morning I had the pleasure of observing Rebecca Gladdy resect a recurrent retroperitoneal leiomyosarcoma in the Mount Sinai OR, followed by an afternoon with University of Toronto surgical residents. I spent the perfect day helping patients, teaching, and talking science.
On October 19, I had the honor of giving the Tri-Hospital Rounds lecture at Mount Sinai Hospital, where I discussed how and why surgeons should be engaged in personalized-precision oncology. The audience seemed to enjoy a little "inside baseball" and I got some great questions about the future of this approach in Canada.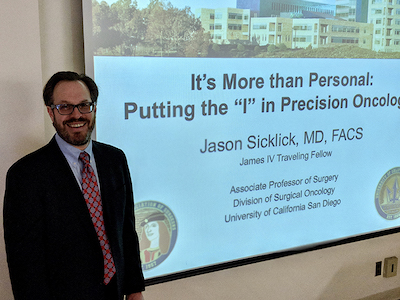 The main takeaway: oncologic care is rapidly evolving and personalized-precision care of cancer patients is a new skill set that surgeons should consider incorporating into their practice (see National Geographic article featuring Dr. Sicklick). Tremendous thank you to Carol Swallow, Princess Margaret Cancer Centre , Mount Sinai, Toronto General, and Sunnybrook for the invitation and warm welcome.
Rome & Milan, Italy
November 10-24, 2018
After a flat tire and a long overnight flight I arrived in Rome with my wife, Danielle, and our two sons, Leo and Benny. We spent the first day and a half touring Rome, and then I left them to adventure on their own while I attended the David Foundation conference. There I discussed current research progress on gastrointestinal stromal tumor (GIST) and I stopped by the Transatlantic Australasia Retroperitoneal Sarcoma Working Group meeting at the Connective Tissue Oncology Society (CTOS) annual meeting.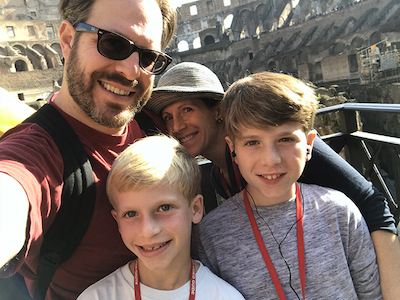 After the CTOS conference ended, we traveled north, stopping in Tuscany and Florence before arriving in Milan for the second leg of my James IV travels on November 19.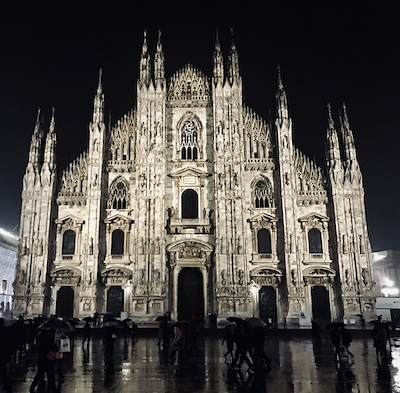 Though Milan is perhaps best known as the Italian capital of fashion and design, it is also home to Fondazione IRCCS Istituto Nazionale dei Tumori, one of the main national and international European referral centers for the treatment and study of cancers, including sarcomas. This is the center often associated with the Milan criteria for liver transplant allocation.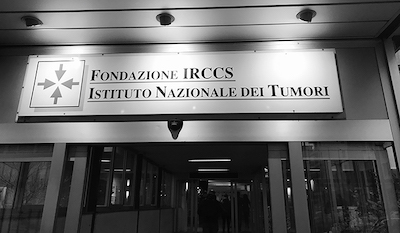 There, I had another exciting and educational visit hosted by  Alessandro Gronchi  , Chief of the Sarcoma Service and leader in the fight to understand and treat sarcomas. I spent five days with him and his team of skilled sarcomas surgeons namely, Marco Fiore, Stefano Radaelli, Sandro Pasquali, and Chiara Colombo scrubbing into the operating room and watching these high-volume sarcoma surgeons at work. I participated in cases across the spectrum—from retroperitoneal sarcoma resections for liposarcoma and undifferentiated pleomorphic sarcoma to sacrectomy for a sacral chordoma to a rectal GIST resection. Embedding like this allowed me to gain a much deeper understanding of the process and thought behind their operative approaches.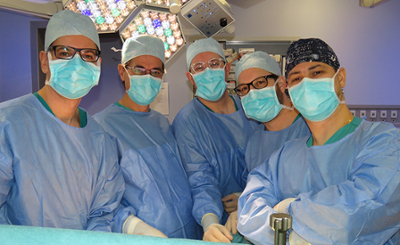 During my visit, John Mullinax from Moffitt Cancer Center and Lorena Suarez-Kelly, surgical oncology fellow from Ohio State University were also visiting. Great opportunity to network with American colleagues interested in sarcoma management.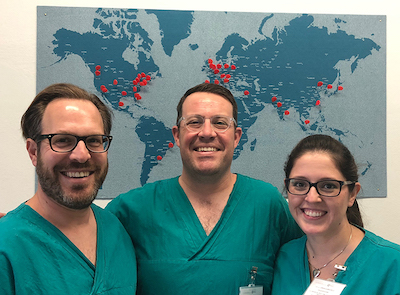 On Thanksgiving Day, I shared our work on moving from drug-centric to patient-centric precision oncology and then enjoyed what may become our new Thanksgiving dinner of risotto, grilled Branzino, and gelato.

Tremendous thank you to Alessandro Tremendous thank you to Alessandro Gronchi and the whole team for the invitation and their warm welcome.
Postscript
After two weeks of travel, conferences, meals with colleagues and conversation, I am reflecting on new collaborations that have developed and lifelong friends that are sure to evolve. I have experienced two different forms of nationalized health care, each with their benefits and challenges, including an anesthesiologists strike on my last day in Italy. With so much communication done virtually these days, this trip is a wonderful reminder of the joys and true benefits of face to face learning and collaboration.
I'll send updates next month from Sydney, Melbourne, and Brisbane.