Jason Sicklick Receives James IV Traveling Fellowship
January 24, 2018 | Lindsay Morgan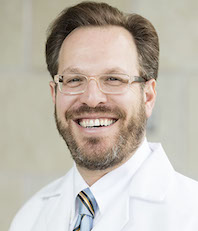 Jason Sicklick, MD, a surgical oncologist at Moores Cancer Center and Associate Professor of Surgery at UC San Diego, has been named a recipient of the prestigious James IV Association of Surgeons Traveling Fellowship, which pays a stipend allowing young, academic surgeons a four-week period of foreign travel, with a goal of promoting communication and collaboration in the surgical community.
"This is an amazing honor," says Sicklick. "I'm humbled to be part of the community of travelers and excited for the opportunity to learn from peers around the world, as well as to share my experiences as a surgeon-scientist and build the community of practice."
The James IV Traveling Fellowship offers surgeons the chance to observe practice in different countries, and promotes cross-cultural learning about methods, health systems, leadership styles, and occupational cultures. Many past "travelers" have gone on to become leaders in their field, including chairs of academic surgical departments.
"Receipt of this prestigious award is a testament to Dr. Sicklick's many accomplishments as a faculty member at UC San Diego," says Dr. Andy Lowy , chief of the Division of Surgical Oncology. "His work on GI stromal tumor is helping to shape understanding of this disease and how best to treat it. His work has particularly focused on the most challenging subsets of GIST patients, those with tumors resistant to standard treatments and with rare genetic mutations. This fellowship will allow Dr. Sicklick to learn from other world leaders in sarcoma care and to share his insights with international colleagues, which can only help improve care for GIST patients worldwide. We are incredibly proud to have Dr. Sicklick as a member of our division and to have him recognized in this manner."
Dr. Sicklick's clinical practice and research focus on treating and studying patients with gastrointestinal stromal tumors (GIST) and other abdominal/retroperitoneal sarcomas, as well as hepatobiliary malignancies. He also serves as General Surgery Residency Associate Program Director and as a Co-Director of the cancer center's Biorepository and Tissue Technology Shared Resource. He is also an NIH-funded Principal Investigator in a translational research laboratory, and Principal Investigator of two investigator-initiated clinical trials, including a precision medicine cancer trial.
As part of the fellowship, Sicklick says he hopes "to learn new surgical techniques, discover novel technologies, share translational and clinical research ideas, and observe how others structure their clinical and research programs." He plans to visit sarcoma programs of the Transatlantic Retroperitoneal Sarcoma Working Group, of which he is a member, including the Sarcoma Unit at the Royal Marsden in London; the Istituto Nazionale Tumori in Milan; the Netherlands Cancer Institute; and the Sarcoma Unit at Princess Margaret Cancer Centre in Toronto; and other hospitals in Europe. In Asia, he plans to organize visits to Hong Kong, Tokyo, and China.
"This is an incredible honor," says Sicklick. "In this era of ever increasing published knowledge, this remains a unique and very personal way to share ideas and learn around the world. Global friendships and a varied toolkit of methods, theories, and practices are critical tools to continue our pursuits of improving patient care regionally, nationally and internationally."
About Jason Sicklick, MD
Dr. Sicklick earned his medical degree from UCLA David Geffen School of Medicine. He then completed a general surgery residency at The Johns Hopkins Hospital; a postdoctoral research fellowship at Duke University Medical Center, where he and colleagues were the first to identify that the Hedgehog signaling pathway regulates liver stem cells and is important in the pathogenesis of hepatocellular carcinoma; and a fellowship in surgical oncology at Memorial Sloan Kettering Cancer Center. He joined UC San Diego's surgery faculty in 2010. Among the eight current National Institutes of Health grants to the study GIST, Sicklick's team has been awarded two.