In Memoriam: Dr. Michael Peter Kaye
January 26, 2018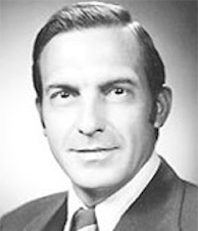 Dr. Michael Peter Kaye, a surgeon, teacher, researcher, and devout family man, died at the age of 82, on Sunday, Dec. 17, 2017.
Born to Lithuanian immigrants, Kaye was born and raised on Chicago's south side. Growing up with an interest in science, he studied chemistry at St. Louis University and went on to receive his medical degree from Loyola University's Strich School of Medicine.
During his surgical residency at the University of Minnesota, Kaye met Mary, his wife of 57 years, with whom he raised five children. The family spent more than 10 years in Rochester where Dr. Kaye taught and conducted research related to heart transplantation at Mayo Medical School. In addition to his transplant practice, Dr. Kaye also proudly served at the Brooke Army Medical Center, Fort Sam Houston, Texas.
In the 1980s, Dr. Kaye moved to the University of Minnesota as Professor of Surgery, where he continued his research into heart and then lung transplantation as head of the cardiothoracic research laboratories. Working with Ed Sweeney, he developed a database for cardiac surgery, put into use at the University of Minnesota in 1986. This was subsequently the template for the database currently employed by the Society of Thoracic Surgeons.
A founding member of the Society for Heart Transplantation (as it was then called), Mike also developed the database for heart transplantation, which subsequently developed into the International Database for Heart and Lung Transplantation currently in use.
Although Dr. Kaye's interest was primarily in research and teaching, he was an important member of the team that, in 1986, performed the first heart-lung, double lung and single lung transplants in the midwest, at the University of Minnesota. In addition, following the retirement of Jaques Losman, in 1986 he assumed the editorship of the Society's journal. During his ten years as editor, he developed it into an internationally recognized journal.
In 1989, Kaye was part of a group of three surgeons and two transplant coordinators who accompanied Stuart Jamieson to the University of California, San Diego (UCSD). There he was director of research while continuing as editor of the Journal and maintaining and developing the world-wide transplantation registry during its critical early stage of development. Again, he was an important part of the team that established heart and lung transplantation at UCSD.
Upon his retirement from UCSD, Kaye returned to Minnesota. Because of his experience in founding and maintaining the International Registry for Heart and Lung Transplantation, Kaye realized there was a need for a reliable, paperless and convenient method for gathering patient data for the sponsors of medical device, pharmaceutical and biotech clinical trials. Together with Bill Kobi, in 1997 he co-founded Acumen Healthcare Solutions, a medical software development company in the business of running clinic trials.
Dr. Kaye moved from Stillwater Minnesota to Somerset Wisconsin three years ago. Affectionately known to the family as Harley, he shared his love of medicine, the outdoors, and horses with his children and grandchildren. Kaye donated his body to the Mayo Medical school. He is survived by wife, Mary; five children, Michael Jr. (Deb), Robert, Christopher (Andrea), Dory (Kirk) Anderson and Eric (Shawn); and 17 grandchildren and great-grandchildren.