Finding New Cures For Cancer
Famed hematologist and oncologist, Antonio Grillo-Lopez, was instrumental in the development of Rituxan—the #1 cancer drug in the world for over 15 years, which, in combination, cures around 50,000 lymphoma patients every year. He helped to develop more than 25 other cancer-fighting agents as well. Now retired, he and his wife, María Marxuach-Grillo, have joined forces with the Department of Surgery to support research for a cure for pancreatic cancer, an effort led by Dr. Andrew Lowy, the chief of the Division of Surgical Oncology.
September 1, 2018 | Lindsay Morgan
It was 1957, and at a high school in San Juan, Puerto Rico, the student newspaper had just published its annual end-of-year "Where Will They Go?" article, predicting where its graduating seniors would end up in life.
For one, the prediction was that he would become a famous basketball player. For another, an engineer.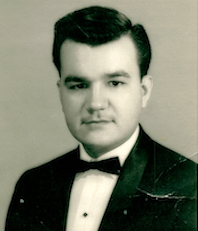 But under the name of another student, an unassuming young man of medium build named Antonio, it read: discover a cure for cancer.
"To this day I don't know where they got it or who thought of it," says Dr. Antonio Grillo-López, "but I remember thinking: hmm, that sounds interesting."
Dr. Grillo-López ended up becoming a hematologist, medical oncologist and famed clinical researcher, responsible for the clinical and regulatory development of Rituxan, which has been the #1 cancer drug in the world for more than 15 years and, in combination, cures around 50,000 lymphoma patients every year.He has also been instrumental in the clinical development of over 25 other anticancer agents.
"I guess you could say the prophecy came true," he says.
***
Dr. Grillo-López and his wife, Maria Marxuach-Grillo, were both born and raised in Puerto Rico. After medical school and fellowships in Hematology and Oncology, Dr. Grillo-Lopez worked at the University of Puerto Rico Hospital in San Juan, and the San Juan VA, where he started their Oncology service. He went into private practice but continued to do research as a member of the Southeastern Cancer Study Group of the National Institutes of Health.
In 1980, Antonio and Maria, along with their three children, left the island for the University of Michigan and Parke Davis, a pharmaceutical company, where he had a joint appointment doing research. Their next move took them to Delaware and Switzerland with DuPont Merck Pharmaceuticals, before finally landing permanently in San Diego and joining IDEC Pharmaceuticals (now Biogen), where he was Chief Medical Officer and Senior VP, Medical and Regulatory Affairs.
Over the course of his career, Dr. Grillo-Lopez has been instrumental in the clinical development of over 25 anticancer agents including five that are approved: Rituxan, Zevalin, trimetrexate, deoxycoformycin, and amsacrine; and others that are experimental: amsalog, brequinar, tiazofurin, deazaguanine, diaziquone, ametantrone, fostriecin, selenazole, BTPI, acridinecarboxamide, LAK/IL2, Specifid, Melimmune, and the anthrapyrazoles.
Along the way, he learned the ins and outs of clinical research.
"People don't realize how difficult it is," he says. "You're dealing with human beings, and everyone is different. And people have egos. Not that I'm lacking one! But it can be challenging. You have to learn how to work with all sorts of different people, and how to manage the process: phase 1 and 2 and 3; get it to the FDA; get it approved. When I started at Parke Davis, which was my first industrial company experience, I was it. So, I had to do everything and learn everything from the ground up. By the time I started at IDEC, I had a lot of experience, and the FDA really respected us. They knew the data we submitted to them was squeaky clean."
***
What originally drew Dr. Grillo-Lopez to hematology and eventually cancer was a person he met in his 3rd year of medical school, Dr. Norman Maldonado—a hematologist and professor at the university—and the example he set of care for patients. "He was relatively young and very bright and avant garde. He taught me about hematology but he also taught me a lot about the art of medicine. He cared so much for the patients as persons. And it was not a show—he actually felt deeply for others."
Since then, both Antonio and Maria have been motivated by wanting to help patients. "Along the way, there has been a sense both of achievement and purpose," he says. "When I was working in private practice, I saw a lot of suffering. To be able to extend life for some people is a gift."
"It's been very exciting to see him be so successful," says Maria. "While he was building his career, I was raising our kids and supporting him in his career—I would find references when he was going to publish an article, or help him write papers, and type up letters. We are a team."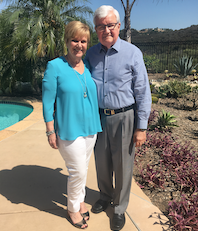 Maria also received two associate degrees in Secretarial Science and Interior Decoration and earned a BS in Interior Design and Space Planning, with a minor in Fine Arts, from Eastern Michigan University. She remembers many nights spent at the dining room table doing homework alongside her children. She is also an accomplished artist and has studied art in San Juan, Madrid, Ann Arbor, Geneva, and San Diego.
Now retired, Dr. Grillo-López and María have made a second career of giving generously to support scholarships, endowments and research across the United States. Most recently, they donated to the Department of Surgery's Research for a Cure for Pancreatic Cancer, an effort led by Dr. Andy Lowy, chief of the Division of Surgical Oncology.
"We have always been interested in cancer research and cancer cure," says María. "I have had cancer, Antonio has had cancer, and many friends and family have had cancer. We want to find cures."
Support from the Grillo-Marxauch family will enable the pancreatic cancer research program to use innovative basic research to identify and validate new strategies for the treatment and ultimately the cure of pancreatic cancer. Areas of focus include pancreatic cancer immunotherapy and targeting pancreatic cancer stem cells.
"Our cure rate has improved in many areas," says Grillo-López, "but still, in many of the solid tumors we do not effect cures with drugs. There's still a lot of room to develop new treatments for many of the solid tumors and pancreatic cancer is one of them. We've been impressed with Dr. Lowy and his work, and we have visited his labs. We believe this is area of research where we can put our money to work."
***
Perhaps it is to be expected—that the wealthy give a portion of their money to help the community. Maybe. But not everyone who is wealthy gives so much. Antonio and María have a particular view about stewardship, and a sense of mission:
"A lot of people are out there trying to make money," says Grillo-López. "But money doesn't buy happiness. We know people who have so much money and they're not happy. I think the importance of money is what you do with it."
María agrees: "We share what we have with our family and with others. We want to find new cures. We need to help others."
Antonio and María have given their lives to the mission of helping people with cancer live longer, healthier lives, and today, they continue to participate in the betterment of society through giving.
"We want Dr. Lowy's team to be successful," Antonio says, "because if he's successful, then patients will have new treatments, new diagnostics. The question isn't why to give. It's why not?