Dr. Sharona Ben-Haim Performs First-In-Kind Procedure to Treat Refractory Epilepsy
Dr. Sharona Ben-Haim Performs First-In-Kind Procedure to Treat Refractory Epilepsy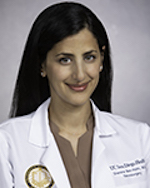 With the aid of new upgraded technology in the Jacobs Medical Center Neurosurgery suites, UC San Diego Neurosurgeon Sharona Ben-Haim, MD, recently was able to perform what is thought to be a first-in-kind procedure on a patient suffering from refractory epilepsy, a type of epilepsy that can't be treated with medication.
Dr. Ben-Haim and her colleagues mapped the patient's brain and found the seizures to be caused by a periventricular nodular heterotopia. The heterotropia — a condition where neurons clump around ventricles in the brain, causing seizures — was located in the patient's right parietal lobe, which is involved in reading and writing, speech, cognition and several other important functions.
In a room equipped with CT scan capabilities in the Jacobs Medical Center's Neurosurgery suites, Dr. Ben-Haim and her team were able to aim three lasers at the affected region and then transfer the patient to the intraoperative MRI operating room.
Using new technology, such as the Brainlab interface with its interactive Diffusion Tensor Imaging (DTI) functionality, Dr. Ben-Haim was able to image all of the nearby eloquent regions and use the images during the surgery. The images were then put into the Monteris ablation system, a surgical tool that allows for precise ablation through laser technology to make the procedure less invasive than open surgery while minimizing risk of damage to healthy tissue. This new upgraded technology allowed Dr. Ben-Haim to view the areas of the brain that her team would be operating on in real time, allowing for greater accuracy, which in turn led to the safe completion of the surgery.