Dr. Kristin Mekeel Takes On Role as Medical Director of Surgical Quality
Dr. Kristin Mekeel Takes On Role as Medical Director of Surgical Quality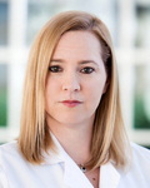 We are pleased to announce that Dr. Kristin L. Mekeel has accepted the role of Medical Director of Surgical Quality for UC San Diego Health. Dr. Mekeel was among the many qualified candidates who underwent a two-round interview process with a panel that included UC San Diego Health leadership, including CEO Patty Maysent, Financial Analyst Lisa Rhodes, Dr. Ruth Waterman, Chief of Quality and Patient Safety Chad VanDenBerg, Dr. Mike McHale and Dr. Joseph Califano. Please join us in congratulating Dr. Mekeel in her new role.
In the role of Medical Director of Surgical Quality, Dr. Mekeel will provide leadership, vision and direction for program planning in the Department of Surgery. Among her responsibilities, she will assure the delivery of quality, efficient, medically needed and safe services to our surgical patients. This includes providing clinical consultation to attending physicians and overseeing medical and technical training for the department's physician and non-physician staff; ensuring that the department's services align with the policies, procedures, recommendations or requirements of UC San Diego Health, legislative and regulatory bodies, and other entities; and participating in utilization review programs as well as a quality assurance program and risk management program. Dr. Mekeel reports to Dr. Christopher Longhurst in this role.
Dr. Mekeel is a board-certified transplant surgeon and professor in the Department of Surgery. She serves as interim chief of Transplantation and Hepatobiliary Surgery and the Surgical Director of Kidney Transplantation. Dr. Mekeel is an experienced transplant surgeon specializing in kidney transplantation. She is the former director of quality for the transplant program and is in process of finishing a master's degree in patient safety and health care quality at Northwestern University. She has worked at UC San Diego Health for nine years.
Dr. Mekeel succeeds Dr. Sonia Ramamoorthy, who stepped down from this role on June 30. We are appreciative of and indebted to Dr. Ramamoorthy for the passion and dedication she brought to this role, and look forward to working with Dr. Mekeel to continue to elevate the level of care in the Department of Surgery.