Colorectal Surgery Receives Accreditation from NAPRC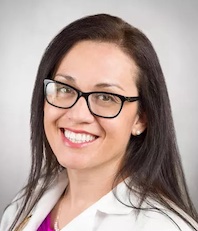 The colorectal disease team has spent 3 years preparing to achieve Accreditation Status from the National Accreditation Program for Rectal Cancer (NAPRC). The accreditation not only requires a multidisciplinary approach to rectal cancer care, but a specific mandate to directly communicate the board's findings to the patient and the referring physician. This has increased satisfaction from our patients and our referring physicians. The ultimate goal is to be sure everyone is on the same page when it comes to caring for patients with rectal cancer. We get one chance to do this right, we absolutely want to do our best.
Our team, led by our NAPRC Program Director, Dr. Nicole Lopez, and our Program Coordinator, Ellen Fink, PA, has worked hard to establish a framework for our multidisciplinary rectal cancer tumor board. The conference requires weekly participation from physicians who are essential to the care of rectal cancer patients including radiologists, pathologists, medical oncologists, radiation oncologists, and colorectal surgeons. Facilities with the NAPRC accreditation have undergone a rigorous review process that ensures state of the art cancer care for patients with this devastating disease.
Rectal cancer can have significant, and lasting implications for bowel, urinary and sexual function. The group effort required to adhere to NAPRC standards has stimulated camaraderie and purpose, enhancing our ability to recognize and take advantage of the outstanding skills and experience of our team. We believe this has increased our capacity to approach patients with oncologic rigor in balance with patient values and considerations for quality of life. Our team is supported by a host of experts in the UCSD Moores Cancer Center who are critical to our expert management of rectal cancer patients including Urologic Oncology, Gynecologic Oncology, Thoracic Surgery, Palliative Care, Ostomy support and Surgical Oncology. Together, this powerhouse elevates the care for rectal cancer patients in the region. UCSD's program is the first accredited program in Southern California and is one of only 23 centers accredited in the US.
Our team is extremely proud to have earned this distinction as it reflects the talent, hard work and dedication of the entire colorectal disease team at UCSD. Our goals are to build a stronger bonds with the community to facilitate the care of rectal cancer patients in the region and to use our clinical expertise to inform our research, translational and clinical trial efforts in the future.