Center For the Future of Surgery is Expanding

April 15, 2018 | By Lindsay Morgan
Construction will soon begin at The Center for the Future of Surgery—an advanced surgical training center located on the campus of UC San Diego—to build a microsurgery laboratory and hybrid operating room equipped with the latest technology. The facility is slated to be complete by November 2018.

"In surgery today, technology is evolving, techniques are changing, new devices are coming out all the time, says Dr. Santiago Horgan, Director of the Center and Chief of the Division of Minimally Invasive Surgery. "There are still many operations that are done open because surgeons don't have the skills. There is a huge need for simulated training."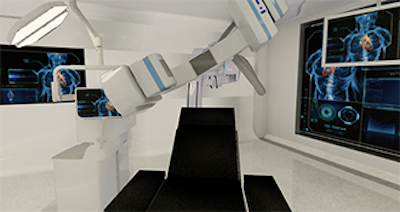 The CFS fills this gap by offering state-of-the-art educational opportunities to teach fundamental and advanced technical skills and procedures. In a simulated environment, students, residents, and practicing physicians can learn and hone their technical skills
The build out of the CFS includes a micro-surgery suite with 15 workstations, which will provide an expanded, state-of-the-art venue for skull-based surgery, vascular surgery, neurosurgery, and plastic surgery.
"This expansion is an extraordinary opportunity for our microvascular surgeons and those who practice catheter based endoluminal vascular procedures," says Dr. Bryan Clary, chair of the Department of Surgery. "The CFS will be one of only a few surgical simulation training facilities in the world to have a hybrid OR for training, research, and device development in the endoluminal surgery."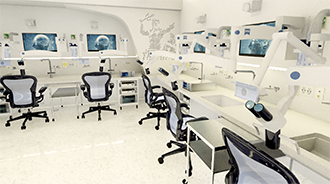 The hybrid operating room will contain a multi-axis C-arm, donated by Siemens Medical Solutions, which uses robotic technology to extend imaging capabilities around the operating table. Hybrid ORs allow a multi-disciplinary approach so that surgeons from different specialties can work together to treat multiple medical issues in a single episode of care. This holistic approach is designed to limit additional procedures and ultimately reduce hospital stays and possible complications or infections. It also allows the use of real-time intra-operative image guidance to evaluate, intervene and assess the results of minimally invasive procedures, complex minimally invasive procedures, and open surgical cases.
The Department of Surgery will provide updates about the build out throughout the spring, summer, and fall. In the meantime, you can take a virtual tour of the new facilities here . The CFS expansion was designed by CallisonRTKL.
Since opening in 2011, the CFS has trained more than 20,000 individuals—from residents and medical students to surgeons, nurses, and industry partners—making it one of the largest and most comprehensive surgical training facilities in the world.
To learn more, visit the Center for the Future of Surgery.