Center for Health Innovation Expands with $22 Million in Gifts
Support from Joan and Irwin Jacobs to create hospital-based mission control center to help solve real-world patient care needs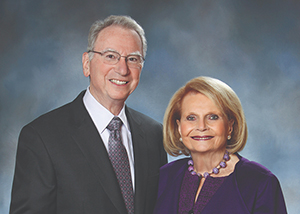 With a generous $22 million in gifts from Joan and Irwin Jacobs, UC San Diego Health will bring its Center for Health Innovation into full reality. The gifts will fund a novel patient-care "mission control center" within Jacobs Medical Center at UC San Diego Health and the Jacobs Chancellor's Endowed Chair in Digital Health Innovation. These initiatives and other plans will be shared and celebrated on May 4-5 with the Innovation in Digital Health symposium for thought leaders across the nation.
"The Center for Health Innovation represents a singular opportunity to redefine the way our clinicians and patients leverage the power of technology and data to improve health outcomes," said UC San Diego Chancellor Pradeep K. Khosla. "Once again, Joan and Irwin Jacobs are transforming health care in San Diego through their visionary generosity and kindness. We thank the Jacobs for their continued partnership in caring for our community, now and in the future."
"We owe an incredible debt of gratitude to the Jacobs family for always stepping forward to help us develop new ideas, places and technologies that will change patient care for the better," said Patty Maysent, CEO, UC San Diego Health. "This gift will allow us to solve real-world patient care issues and translate them into safe patient-centered technologies that monitor, prevent or treat a variety of conditions."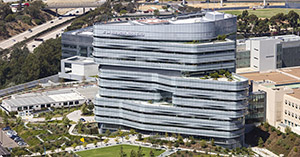 The Center for Health Innovation was founded in September 2021, with internal seed money from UC San Diego to develop and test technologies that make measurable differences in the lives of patients. After the center demonstrated multiple successes at scale, the Jacobs funded several initiatives that are scheduled over the next three to five years. The $22 million in gifts builds upon the $100 million to build Jacobs Medical Center, the 10-story, 245-bed academic medical center in La Jolla. 
"We believe the Center for Health Innovation at UC San Diego Health will lead the development of new ideas and digital tools that measurably improve health quality and patient care for a broad population — creating a model for other hospitals nationally," said Irwin Jacobs, co-founder, Founding Chairman and CEO Emeritus of Qualcomm and a founding faculty member of UC San Diego, serving as a professor of Electrical and Computer Engineering from 1966 to 1972.
"The vision for a hospital-based, AI-enhanced mission control center will be one of the first in the U.S.," said Christopher Longhurst, MD, chief medical officer and chief digital officer at UC San Diego Health. "Our goal is to be a leader in all digital health tools that can improve the delivery of health care across the continuum, from inpatient rooms to clinic spaces to home environments."
The future mission control center will serve as a hyper-connected hub to monitor patient health and safety through integration of data streams from cameras, sensors, electronic health records, bedside monitors, imaging, wearables, and multiple other sources. The goal is to develop AI algorithms and models that proactively improve personalized treatment, health equity, and patient experience, person by person.
"Since opening, the Center for Health Innovation has extended remote tele-monitoring to more than 2,500 patients with chronic diseases to help keep them at home and out of emergency departments," said Longhurst. "We recently implemented a novel, multi-modal AI-based sepsis prediction algorithm for all UC San Diego Health inpatients, and are in the design and development phase of implementing multiple AI programs to improve care for patients for issues that affect eye, heart, joint and digestive health."
"Multiple mobile apps are also in development, including phone-based technologies to support student mental health and wellbeing and a personalized care navigation app for patients with cancer," Longhurst added.
In addition to the mission control center, the Jacobs' gifts will be used to recruit the Joan and Irwin Jacobs Chancellor's Endowed Chair in Digital Health Innovation. This physician-scientist faculty member will strategize and lead the initiatives of the mission control center.
To celebrate the launch of the center, an exclusive symposium of thought leaders on Innovation in Digital Health will be held from May 4 to 5, 2023 at the Qualcomm Institute at UC San Diego. Attendees will learn how UC San Diego Health and similar institutions are advancing innovations in health care through AI and machine learning, mobile health data driven service models and ethical and secure practices in digital health. Applications for the event are here: healthinnovation.ucsd.edu/#event.  
The Center for Health Innovation has established a formal relationship the University Health Network's (UHN) Techna Institute. Jointly serving UHN's five hospitals, and affiliated with the University of Toronto, this institute has more than 15 years of experience of designing products and services that are now used in hospitals and clinics throughout Canada and in Europe. An important focus of Techna's efforts is to ensure the safety of products and services, and to improve the user experience. UC San Diego Health and Techna Institute first collaborated on CA Notify, a smartphone-based system built on Google-Apple exposure notification technology, to help quell the SARS-CoV-2 surge.
To learn more about the Center for Health Innovation, visit
healthinnovation.ucsd.edu
.