2019 Research Symposium in Surgical Sciences: "Sparking Partnerships, Potentials and Inspiration"
2019 Research Symposium in Surgical Sciences: "Sparking Partnerships, Potentials and Inspiration"
The UC San Diego Department of Surgery held its annual Research Symposium in Surgical Sciences earlier this month, with a record-breaking 91 abstracts submitted from researchers working in both basic and clinical and outcomes research from nearly every division within the department.
"In five years, we'll have 2,000 abstracts at this rate," joked Andrew Baird, PhD, the department's Vice Chair for Research. "I get excited thinking about and reading through these abstracts and seeing the breadth and depth of the research going on."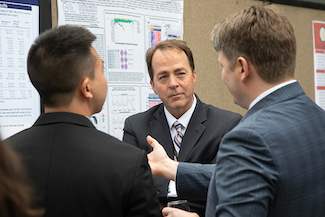 Department Chair Brian Clary, MD, described the symposium as "an opportunity to recognize and celebrate the extraordinary research accomplishments of our faculty and trainees and stimulate new ideas and collaborations by highlighting the breadth of research activities happening across the surgical disciplines.
"It is my hope," he added, "that this coming together will spark new ideas, partnerships, potentials and inspiration."
Following a reception and poster session, researchers presented short, four-minute talks on a variety of topics in basic research. Included among them was a presentation by Ely Cheikh Boussaty, PhD, who presented the results of his meta-analysis genome-wide association study in mice to determine the importance of the formin protein FHOD3 in regulating the lengths of outer hair cell stereocilia lengths. His team concluded that FHOD3 does indeed regulate stereocilia structure and function – a finding that has important implications for understanding and identifying new therapeutic targets for age-related hearing loss.
Betzaira Childers, MD, presented results of a study titled "Sex affects response to tyrosine kinase inhibition in pancreatic adenocarcinoma." Noting that emerging data suggests that  biologic differences between the sexes can influence disease prevalence and therapeutic response, Dr. Childers revealed that male mice with a type of pancreatic adenocarcinoma were likely to respond to treatment with a small-molecule drug designed to inhibit downstream signaling pathways that regulate growth of pancreatic tumors. Female mice, however, showed no significant response to treatment as compared with control groups. Similarly, while the treatment led to a significant changes in the macrophage phenotype of male mice as compared with control subjects, no such differences between treatment and control groups were identified between the female treatment groups.
"Additional research is imperative," stated Dr. Childers, "to better understand these biologic differences and their implications for disease onset, progression and response to treatment."
A number of oral presentations on clinical and outcomes research followed, with Paul T. Albini, MD, leading off with a talk titled, "Who's being left behind? Uninsured emergency general surgery admissions after the ACA (Affordable Care Act)." Dr. Albini concluded that following implementation of the ACA, significant disparities continue to exist among those who are uninsured, with members of the Hispanic population most likely to remain uninsured. The uninsured, Dr. Albini noted, also have higher odds of living in the southern part of the United States, have lower incomes and are more often admitted to non-urban hospitals.
A talk by Jorge de la Torre, MD, described his findings that gastrointestinal stromal tumors (GIST) arising from distinct regions of the stomach may possess unique genomic profiles. De la Torre and his group analyzed a clinical database for patients with gastric tumors and performed next-generation sequencing (NGS) during clinical work-up, revealing that tumors preferentially arise within five regions of the stomach and that there is a striking association between gastric regions and driver mutations. Dr. De la Torre described his research as "the first description of the anatomic and genomic landscape of gastric GIST" and noted that NGS of these tumors has clear treatment implications for targeted medical therapy.
A presentation by J. Sarah Crowley, MD, titled "Utility of team-based multi-modal opioid reduction strategy for the pediatric plastic surgery population" noted that the rate by which opioids are prescribed to children from birth to age 17 has roughly doubled in the last decade, with youth ages 15-24 experiencing the second highest death rate. Adding that children develop opioid dependency within seven days, Dr. Crowley concluded that an intervention consisting of provider education, pre-operative patient counseling and the use of inter-operative nerve blocks leads to a shorter duration of opioid use.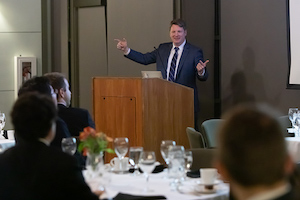 The final event in the four-hour symposium was a keynote talk by Justin B. Dimick, MD, MPH, Professor of Surgery and Health Management Policy and Chief of Minimally Invasive Surgery at the University of Michigan. Dr. Dimick's talk, titled "A Video Is Worth a Thousand Operative Notes," examined how review videos might be used to look at "the black box of surgery itself" – both how a surgery was performed and how well it was performed.
Noting that all individuals – including surgeons – suffer from so-called blind spots in their perception, Dr. Dimick suggested that the solution for correcting these perceptive errors is "100 percent accurate data and someone else to review it."
"This is why we need to use video as a data source," said Dr. Dimick, who then outlined a pilot project he spearheaded to solicit videos of laparoscopic surgeries from the surgeons who performed them and then conduct a blind peer review rating of their technical skills. The resulting data showed that practicing physicians had widely varying skills.
Noting that there aren't many means for practicing surgeons to improve their technical skills, Dr. Dimick added that "when your peers view and rate your video, it's more predictive of patient than surgical volume and other measures." In light of this, Dr. Dimick and his colleagues created a coaching intervention for bariatric surgeons as well as a coaching resource manual that had even "cross-town rivals sitting down together for coaching," he said.
Dr. Dimick also presented a talk at UC San Diego the morning after the department's symposium at Surgery Grand Rounds on the importance of mentorship and sponsorship of surgeons. One of the key takeaways from that talk was the concept of serving as a "meta" mentor, or, in his words, "to build capacity by explicitly developing mentees into mentors."
Dimick concluded that talk with a quote by Steven Spielberg: "The delicate balance of mentoring someone is not creating them in your own image, but giving them the opportunity to create themselves."  
As the wide variety of research at the annual symposium suggests, "the inadequacies and cost of our current approaches to surgical disease remind us every day that there is no shortage of questions to be asked and answered," noted Dr. Clary.
"It is the responsibility of academic surgical departments to take up these challenges on behalf of current and future patients who deserve better," Dr. Clary added. "Judging from the quality of this event, it is clear that our Department takes this responsibility to heart. We do it for our patients, and we do it because of the excitement inherent in discovery."