Surgery Clinics Recognized For Exceptional Care
April 10, 2018 | By Lindsay Morgan
Surgical clinics have been the recipients of UC San Diego Health's Clinic of the Month award for seven months in a row—from July 2017 through January 2018. The Clinic of the Month award recognizes ambulatory clinics that exemplify a commitment to deliver exceptional care every day. Clinics are assessed on patient access indicators; patient experience surveys; and quality scores, and over 150 clinics are considered. The string of wins follows a year of big push to improve clinic services throughout surgery.
"I am so proud of our team of surgical clinic staff and faculty," says Greg Kharabadze, Vice Chair for Administration. "This is a great accomplishment and recognition. We have put in a lot of work in terms of patient access, focused on quality and experience—and it shows. Sometimes, it is easy to get lost in the metrics, but we need to remember that we have real patients behind these metrics and each and every one of them deserves the best care and experience. We are not in a transactional business, we are in a relationship-based business. We take care of people—all sorts of people with all sorts of clinical problems—and this is a privilege that every member of our surgical clinics takes very seriously."
Clinic of the Month, Surgical Specialties Winners
January 2018
Medical Offices North: Audiology (Hillcrest)
December 2017
Medical Offices North: Plastic Surgery (Hillcrest);
November 2017
Hillcrest: Regional Burn Center
October 2017
Hillcrest: Regional Burn Center
September 2017
Medical Offices North: General Surgery
August 2017
University Center Lane: General Surgery
July 2017
Medical Offices North: Audiology
Medical Offices North, in Hillcrest, which is run by Marcelina McMillon, and runs clinics for colon and rectal surgery, trauma, burn, plastic surgery and general surgery, has earned the distinction four times in seven months. What makes the clinic shine?
Angelina Tellez, a recently hired front desk coordinator at MON, who has 15 years of experience in health care, says: "When a patient comes in we want to make sure they feel welcomed. Patients can come in in a bad mood, stressed out—they can take that our on us sometimes. But everyone here has the power to effect that patient by the way we treat them."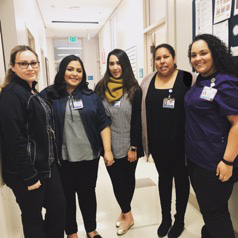 Amanda Thomas, LVN, agrees: "We see patients before and after their surgeries and that's a scary time for them. Part of our job is to comfort them. We want to make them feel—don't be scared, we're here to take care of you."
With a large majority of patients Spanish speakers, it also helps that the entire staff is fluent in Spanish.
Staff also say that they experience high levels of job satisfaction.
Says Jessica Alviar, LVN: "I love my job. I think what we've achieved has a lot to do with the team and leadership—we have a great boss."
Marcy, the clinic manager, says: "We're very honest with each other and we cover for each other and help each other out."
They also stress the ease with which they are able to communicate with the doctors.
"I love all our doctors; they're very easy to talk with. Any problems or issues, they will respond right away. We don't feel intimidated," says Bianca Morales, clinical lead.
The bottom line? Key to improved performance is excellent communication, staff support, and a motivated team.