Q&A with Dr. Jeff Reeves
"What I Wish I Had Known": Transitioning from Residency into Surgical Practice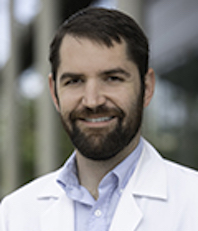 The best surgical training programs share in common an emphasis on educating resident physicians about the most advanced surgical techniques. But what many programs leave out is an education on the business  aspects of how to run a successful surgical practice, from navigating the 'alphabet soup' inherent to the healthcare financial reimbursement system to putting in place quality improvement systems that will help surgeons practice more efficiently and cost-effectively.
Transitioning from Residency into Surgical Practice (TRis) is a new curriculum developed for all surgical trainees at UC San Diego to examine the socioeconomic aspects of surgery and all domains of quality healthcare. This course is designed to educate surgeons on health care systems and policy, healthcare economics, managing an effective surgical practice, medicolegal principles, and ensuring quality and patient safety. 

UC San Diego General Surgery Resident Jeff Reeves, MD, co-created the TRiS program with Department Chair Dr. Bryan Clary. Here Dr. Reeves shares with us the impetus for creating the program, as well as the program scope and expected outcomes.


Q:What is TRiS and how did it come about?
A: TRiS is a new course with the general theme of preparing residents and fellows to successfully transition into real world surgical practice. You can think of it as a course intended to address the common complaint of, "I wish I knew this when I started my career." 
When I was an intern, one of our chief residents, Dr. Kathryn Parker, gave an excellent grand rounds on the finances of surgery and the nuances of how surgeons are reimbursed. She was preparing to start a job within a community practice and taught herself a lot in the process. I realized that most of us in the audience, including attendings, knew very little about this topic. This reinforced the idea that while surgeons, and physicians in general, are experts in the clinical management of diseases, we are too often not well-versed in the financial aspects of healthcare. Dr. Bryan Clary shared this sentiment and was very supportive of developing a curriculum to address this gap within the Department of Surgery. In doing so, we surveyed other departments to stimulate ideas and recognized this was something that would be beneficial to bring to all surgical trainees in a formalized setting. And this was the genesis of TRiS. 


Q: What are some of the most important topics the course will cover?
A: That's tough because all of these topics are important and it was challenging to find space to cover everything. That said, alphabet soup and the perioperative environment are areas that although very important, are typically blank voids for surgical trainees. 

Alphabet soup pertains to the alphanumerical codes (ICD10, CPT, RVU, MRG, CDM, etc…)  for diagnosing diseases, performing operations, and how surgeons and hospitals are reimbursed. Many surgeons start practicing without knowing anything about these codes and have to figure it out on the fly, others never learn how to optimize the system. 

There are other "codes" in the periop space like SPD and EVS that represent entire teams of healthcare workers who run the ORs behind the scenes that many surgeons don't even realize exist. There are over 20 unique teams at UCSD that are involved and necessary to provide surgical care from the moment of disease onset to surgical recovery. Creating visibility to this complex process is essential for an effective healthcare system. 


Q: How were residents typically learning about these topics before TRiS?
A: Learning about the business side of surgery, how to practice efficiently and cost-effectively, or quality improvement strategies varied based on the program and the individual resident. The reality is that surgical trainees were not being exposed to many of these areas at all. Historically, learning occurred through the classic Halstedian teaching model in which surgical knowledge is accumulated during clinical patient care in the ED, hospital wards, and the operating room, supplemented by lectures. 

The issue is that trainees are removed from the economic, non-clinical parts of the job in these day-to-day patient encounters. As a result, we are often left underprepared for the real world early in our careers. Nationally, this is quite common. Only about 25% of US-based training programs have a formalized curriculum in these areas, leaving the majority of graduates to report knowledge gaps in health systems. 
 

Q: Why is education in this area important to the success of surgeons?
A: There are many reasons. Clinically, mastering the practice of surgery requires more than medical knowledge and technical skills in the OR. A complete surgeon must also have a firm understanding of how to navigate the perioperative environment and optimize the use of the available tools and systems. Efficiency and the principles of continuous process improvement are important to ensure the best patient outcomes and the best patient experience. 

From a health system perspective, it is no secret that we spend too much money on healthcare in the U.S. The OR is simultaneously the most expensive unit in the hospital and the highest producer of revenue. Controlling the costs of surgery while ensuring high quality care is an enormous task that starts at the level of each individual surgeon. As a trainee, it is incredibly important to learn how to best manage patients' diseases without considering money in order to offer fair and high quality healthcare. At the same time, we live in a world in which finances impact everything that we do. As a healthcare consumer myself, I can tell you I wish that my doctors knew the price of some of my proposed treatments. I would have made some different decisions if I knew how much it was going to cost me at the time. Because many doctors, particularly in academic hospitals, are removed from the financial aspects of medicine, we often don't know and don't think about the cost. This has many negative consequences on our patients, our institutions, and taken together, society as a whole. 

Finally, many of the topics covered in the curriculum are aimed at improving our own personal lives and financial stability. Practicing in the current healthcare climate can be chaotic and frustrating. One aim of this course is to create the skills among all surgical graduates from UC San Diego to successfully manage the administrative burdens of being a physician so we can make it home in time for dinner. 


Q: What aspect(s) of the course are you most excited about?
A: I am most excited that TRiS will be a shared curriculum among all the surgical departments at UC San Diego. To be able to bring together general surgery trainees with all of our colleagues in orthopedics, neurosurgery, urology, plastic surgery, vascular surgery, head and neck, and OB-Gyn, to me is remarkable. The theme of this course, preparing residents and fellows to transition to real-world surgical practice, is applicable to all trainees regardless of clinical specialty. We have an opportunity to learn a lot more from each other than we would approaching this individually. The support from program directors and chairs in each of these departments is direct evidence of the benefits of collaboration and a great culture here. In reviewing the literature, I am unaware of another program like this in the whole country in which this type of curriculum spans so many departments to reach all surgical trainees across an institution. UC San Diego certainly has an opportunity to be a leader in this area.